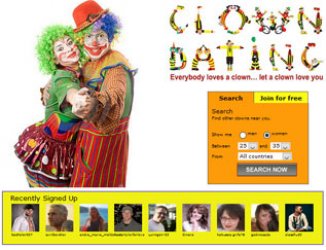 ClownDating.com review 2021:
Certainly a bit of an unusual fish in the world of online dating, ClownDating.com is a product of the Dating Factory which takes its members from a considerably large databank of 1,500,000 singles' profiles. Naturally, the main audience of this site is people who are really into clowns. Almost frighteningly so. As such, you'll find a whole range of people here from clown lovers, professional clowns, amateurs and downright fetishists.
Stop Clowning Around: Features of ClownDating.com
Beyond a colourful homepage, there isn't much else very different from a lot of the other niche sites run by the Dating Factory when it comes to features. Singles do thankfully have a wide range of different options when it comes to communication. You can chat either via your webcam or through the site's internal messaging system.
If you're unsure how to communicate or start a message in the first place, there's also a Flirt game. This is very much like swiping left or right, where you click on a picture and then choose to either Flirt or simply "Not Now". Browsing lets you search for specific types of people as well as see your visitors, people you've added as favourites and "admirers" (those who have added you).
Premium Membership
ClownDating is very basic, although you can search and flirt with other singles (and clowns, naturally) to your heart's desire for free. If you want to communicate, though, you'll have to pay for a premium membership. As well as communicating, you can look at members' media galleries (photos, videos) as well as use more advanced features for searching. Priority listing allows your profile to go up higher in the search rankings, hence giving you more exposure (and profile visitors!).
ClownDating.com - Costs:
Signing up and creating an account on ClownDating is free.
To actually communicate and get features like Priority Listing, subscription begins at €12.95/month.
An additional "VIP Add-on" is availabe from €14.90/month.