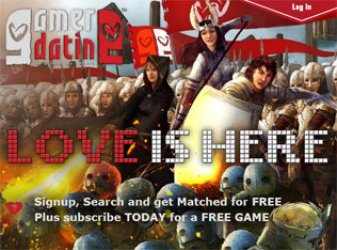 GamerDating.com review 2021:
Run by gamers for gamers, this online dating site has been going since 2009. The aim is for individuals who enjoy gaming to meet someone who, at the very least, does not have a problem with their hobby.
At present there are over 5,000 members but the number seems to be growing, even in the UK.
The Online Community at GamerDating
At GamerDating one of the main focuses is romance, but this isn't the only thing. There is very much a community vibe here and it is organised as such. You can discuss games with other singles (and anyone else on the site) and receive news about the latst releases. As such, the platform is very much an interactive hub.
GamerDating.com: Features Available
Most of the features on GamerDating, when it comes to online dating at least, seem to be rather basic. They do have a rudimentary matchmaking system: when you first sign up, you have to choose at least three of your favourite games to display on your profile. Of course, you can also search for users. All profiles must have a real photo, so…
The online dating features that GamerDating.com offers seem to be very basic. The matchmaking system is rudimentary and based primarily on the games you play. It's also possible to search for users, however. And of course, every profile must have a photo...
…as it lowers the chances of fake profiles.
The dating features here include free messaging, chat and commenting on the community boards. You can also...
...store photos in a gallery. This gives a good impression of how you look - but you can also place your avatar here.
A "Game Centre" newsfeed with updates from the gaming world so that you are always in the loop, as well as the latest trailers of what's coming out and gaming reviews.
A very large, detailed section covering the area of online dating tips and advice.
Premium Membership: Silver and Gold
There are two types of premium membership that you can choose: the Gold Quest and Silver Quest. If you are new to the site, however, you do get two days of messaging absolutely free (just to give you a trial run). The most effective way to enjoy unlimited communication, though, is to subscribe.
GamerDating.com - Costs:
You can sign up, browse the site and get two days messaging for free.
Subscriptions start at US$17.50/month.