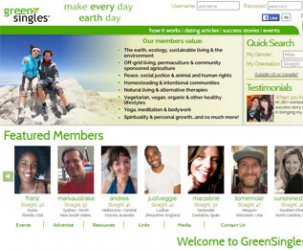 GreenSingles.com review 2021:
GreenSingles focuses on what is known as "eco-friendly" dating and is relatively popular in the UK. As with many of the dating sites from the Conscious Dating Network, it all focuses on singles who share awareness of the world overall. At present there appear to be around 85,000 members (or possibly more) but we're not entirely sure how many are in the UK alone.
Whether you're looking for friends or soulmates, GreenSingles has all of these possibilities. For those who are looking for new polyamorous partners, there are also plenty of people who hold a less mainstream view of dating and relationships.
GreenSingles.com Login: What to Do
The login to GreenSingles.com can be a pain because there are SO MANY questions you have to answer before you set up your profile. The questions relate mostly to your personality and attributes you believe your partner should have. BEWARE: Really try to avoid being VERY specific, since it'll only end up limiting the potential contacts you get!
After the questions have been answered, simply upload your picture. What's good is that it takes a while to approve it. This means that fake profiles are generally ousted pretty quickly.
Features for Finding a Partner on GreenSingles
There are a lot of ways to connect with people on GreenSingles. This is thanks to the numerous creative features that are around.
You can take a special "IQ Test": And of course "IQ" stands for "intimacy quotient"... in essence, it's about how compatible you are with other members so that you can find optimal choices for a partner (so don't worry, you won't be given any horrible sums to do!).
The "comprehensive matchmaker" is where you put in your own preferences for a partner and get matched that way.
That isn't the end of it. You can also answer a number of essay-style questions. Often, they're an excellent way of giving others a much deeper and more complex insight into who you are. The member videos featuere allows you to see them in real life (or the closest thing to it, anyway), as well as look at photo albums. If you hold much with astrology, you can even look at an astrological report!
Communication and Messaging
Singles can respond to messages that are sent to them (both normal emails and instant messages). here is also the opportunity to "indicate your interest" if you see someone you rather like. Unfortunately, if you're the one who wants to send the first message you'll need to pay a subscription. Other than that, you can begin with what is known as a "hello" - pre-written messages that don't cost anything. In order to write your own initial email on GreenSingles, though, you'll want to cough up.
GreenSingles.com - Costs:
Signing up and even using the chatroom is for free.
For subscription and access to premium features, prices began at US$15.95/month.