One of our recommendations in the category
"Gay dating":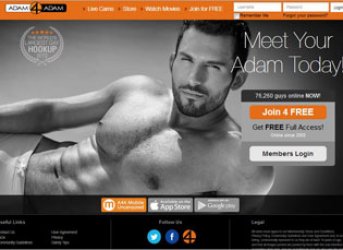 Adam4adam.com review 2021:
Adam4Adam.com is a gay dating and hookup site that has been online since 2003. It also claims to be the biggest online hookup site for gay and bisexual men, and it may not be far off with roughly 60,000 guys on at any one time.
Being a hookup site , Adam4Adam primarily focuses on sex. In many ways, it is very similar to AdultFriendFinder though more exclusively aimed at gay guys.
Adam4Adam UK
UK users may find Adam4Adam to have rather slim pickings when it comes to guys. The overwhelming majority of men on here live in the United States, so unless you're willing to look for someone on the other side of the pond it may not necessarily be worth it.
Adam4ADam.com: Features
ADam4Adam is a site that is certainly rich in the features. As well as being able to communicate via live video chat and the traditional ways, you can plan events with other members. There is event an event and party planning section which will help you organise it.
An adult video section is available on the site for those who want a little more. Live webcam models are also available for entertainment. Those who offer various services such as massage, etc. can also advertise their services here.
Hookups on Adam4Adam
Due to Adam4Adam's nature, the site is mainly focused on sex dates and hookups. If you're looking for Mr. Right in this neighbourhood, you may have to spend some time chatting and trawing through pages. That isn't to say you can't have fun while doing it: what Adam4Adam is particularly useful for is looking for hookups and dates while on-the-go.
Adam4adam.com - Costs:
Adam4Adam doesn't charge its users for membership.
However, you can offer a donation to help maintain the site's upkeep.