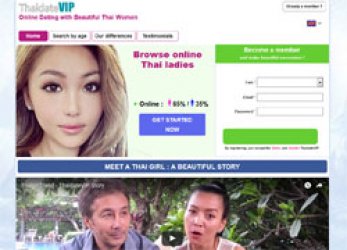 thaidatevip.com review 2021:
ThaidateVIP has over seven years of experience in the online dating (particularly Thai dating) industry. The aim is to bring Thai ladies and men together for a serious relationships and dating. Along with this goal, the team manually reviews profiles, so there is very little chance of encountering fakes. For UK singles in particular, this is a very useful and important thing to remember! At present, there are around 15,000 profiles in total.
ThaidateVIP review: Our first impression
ThaidateVIP is a portal which specialises in dating Thai women. So, it's pretty clear to every user what's expected. However, they do make it clear that there are no women offering services in exchange for money: instead, they're looking for serious relationships. During our ThaidateVIP review, we can say that you'll find various profiles of women in different age brackets.
What's also pretty obvious on the first page of the site is the gender ratio which stands at 63% women and 37% men… Something a lot of dating sites don't necessarily show off (due to having a higher number of male members) – in this sense, ThaidateVIP is quite transparent.
Costs on ThaidateVIP: What's free and what's not?
The functions on this Thai dating site are very simple indeed: in fact, you pretty much get an overview the moment you go to the site. You can immediately see what members are available and have a look at profiles pictures – before you even sign up or login. So, this is quite handy for singles who maybe want to just have a look at ThaidateVIP before coming to any kind of decision.
Costs on ThaidateVIP.com incur when you decide to communicate actively with other members, such as the Thai ladies you'll find here. Other features to help get attention and start things moving are free, though: you can send what is known as a "Crush" which essentially is a function to indicate interest in a particular profile.
Another free and useful service here is the ability to search for other members via age. If there is a particular age group you're interested in, you can simply just click on "Search by age". There are four different categories that you can choose from: the youngest going from 18-15 years, the oldest is anything over 46 years. Between these are age brackets of 26-35 and 36-45 years.
thaidatevip.com - Costs:
Signing up and searching for members is free, even sending a "Crush" to indicate interes
If you want unlimited communication, paid communication starts from €3.90/month