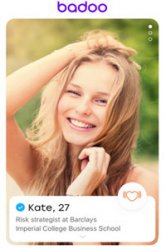 Badoo App review 2021:
The Badoo app is designed to be both a social networking and dating site. Boasting over 250,000,000 users on an international scale (and also available in multiple languages), it is not just for finding dates or the love of your life. It's also possible to meet new people who share the same interests as you for the sake of making new friends or finding activity groups. This makes the overall population of the app much more diverse than a lot of other dating sites.
Login to Badoo: Who Can Use the App?
Users can login with the Badoo app regardless of what mobile device they're using. It is therefore quite flexible and also offers users the option to either create an account or sign in using Facebook. Should the app not work for whatever reason, however, then you can still switch to the mobile version. Another thing to remember: you will not be able to communicate after you login unless you've also put up a profile picture!
Extra Features on Badoo
Basic use of the app is free, although users can upgrade if they want in order to enjoy greater benefits. This includes making your profile more visible and finding more interesting people in the Badoo search. Premum members can also view other profiles secretly, so you can admire someone for as long as you want without them knowing!
Badoo App - Costs:
There's no cost for downloading, creating a profile and using Badoo's basic functions.
Full-service subscriptions begin at US$2.99/month.