« Back to: Online dating agencies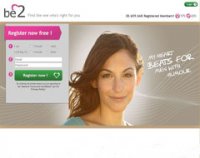 Link:
www.be2.co.uk
Be2.co.uk
Find the one who's right for you
Launched: June 2007
This is Be2.co.uk:
Be2.com is an online dating agency that began in Germany in March 2004. In 2007, they expanded to the UK and are now one of the bigger dating sites here. At the moment there are about 36 million registered members on Be2, of those 50,000,000 users are registered in the UK. This number represents individuals from 34 different countries.
Love is just a heartbeat away!
"Find the one who's right for you" is the slogan that Be2 runs off and aims to bring the best quality online dating service to you. In recent years, however, advertising campaigns have been far and few between and therefore not as many singles are joining as they once did. Do remember, though: despite the lower number of joining members, Be2's matching algorithm still has huge potential when it comes to finding a fitting match!
The central machination behind Be2.co.uk is the matching algorithm, or its scientific personality test. In essence, it attempts to assess the compatibility of two users. Candidates will then be suggested to you based on the answers you provide to the test.
Interested?
be2.co.uk has lots of members, cheap short term membership, but ... watch out with the payment renewals!
Be2.co.uk: composition of members
Number of registered members at Be2.co.uk:

About 50,000 UK members


36 million worldwide members

Many of them are not premium (paying) members thus they can't be active. But, they will occasionally be shown to you as recommendation contact.

Gender ratio (m/f):

43 : 57

Age distribution:

Average age of users:

Women: 36.1 years old
Men: 36.3 years old
Matching procedure of Be2.co.uk:
Steps to success:

Sign up to do the personality test.
Receive contact proposals.
Send one free message to each match.

Quantity of proposed partners:

By narrowing down your search criteria, you yourself have an impact on contact proposals displayed.
In most cases, you receive around 40 suitable contact proposals.
This list is not static and is updated depends on new members who sing in.

Quality of the matching algorithm:

Judging the quality of the mediation algorithm of an agency objectively is almost impossible. University researchers do not dare to make such statements...
That is why we can only provide you with our own personal impression that we received after having looked at the personality traits, preferences, ideas etc. that were taken into account by the respective agencies.
In the course of the last few years, all online dating agencies have reached a similar algorithm. Their main difference is in how far you can look for partners yourself.

Given contact guarantee:

The duration of your subscription will be extended if you do not get at least 10 contacts as a paying member within 3 months.

Quality of user profiles:
Technical aspects of Be2.co.uk
Special features:

Members can release photos to one another directly. This means that only people whom you approve can see your photo.
You can search internationally on Be2.
There is a questions feature which allows you to prompt other members to answer questions on their profile that they haven't filled out. Not only can this be a good way of learning more about them, but it can be a fantastic icebreaker.
If you do not like your matches, you can use Be2's search function as well.

Handling and design:

Be2's design can be a little overwhelmingly pink, but everything is quite easy to find so navigation isn't a problem.
There is a handy section where you can list your favourites and see new singles who join.
Be2.co.uk cost and fees
Free services:

Online Profile fill-out and view brief survey.
Receive contact suggestions and partner searches.
Express mutual sympathy.

Premium services
(fee required):

You can enjoy unlimited communication by subscribing to one of the following plans:




12 Months = £14.99/month
6 Months = £24.99/month
3 Months = £29.99

 

As well as unlimited communication, you will also have clearly visible pictures and can see who visited your profile.

Payment options:

Credit cards (Visa, MasterCard, American Express)
Via the telephone bill (Click and Buy)

Particularities:

Take note!:

If you don't want your premium membership to be automatically extended, you must disable this function in the menu of your personal data.
Be2.co.uk - about the company
Address:

be2 S.à.r.l.


291, Route d'Arlon
L-1150 Luxembourg

CEO: Dr. Robert Wuttke

Contact:

Cool TV commercials of Be2.co.uk: