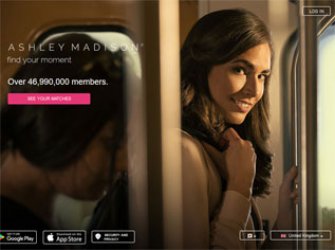 AshleyMadison.com review 2021:
The Canadian affair dating service AshleyMadison has been operating for over 10 years and is currently the most internationally well-known affair dating agency. Over 36 million affair seekers have already registered here!
The principle behind AshleyMadison is simple: you register, create a profile and then search for other affair seekers.
Why must the biggest affair dating site in the world hoax its customers?
Since autumn 2010 this dating site was advertised cheekily through the media and radio. Thus far around 1 million Brits have tried it out.
Great
You can put photos in a secret area and give your preferred affair partners a key with which to open this area.
AshleyMadison.com was hacked in 2015. This confirms what we've aways written: all men are contacted by fake female profiles. The email addresses of 32 million members were also published. Cheaters! How things will continue with AshleyMadison is unclear.
Absolutely Not Great
The price model does not include a time-restricted flat rate, which can be found on other affair dating sites. Rather, there is a system of credits: You acquire a 'credit package' with which you pay for specific functions. That's pretty inconvenient. In our test we also got tempting messages from 'women' who were only trying to lead us to the till.
The Good Stuff at AshleyMadison.com
There is an easy-to-use interface and one that is quite clean, simple and rather innocent looking (when you first login, of course). This, as it would seem, helps the website to live up to its aspiration of discretion. You will see most of the standard features of any dating site on AshleyMadison, such as favourites lists and special block lists should you wish for someone to stop messaging you.

There is another interesting feature for women and men available on the site: the Travelling Woman/Travelling Man application was created in order to help people on the go to find others in the area they are traveling to.

You can search using a number of different specifications including language, ethnic background, body-type and of course where you're going. In the profile, you can describe your 'perfect match' by choosing from a list of different factors and attributes. There is also a place where you can list your 'intimate desires'. What is also quite useful is that:
Only members can allow other members to see their private pictures.
This often involves giving the other member a 'key' so that they can look any time. This privilege can be revoked by the owner whenever he or she wishes.
AshleyMadison: Discretion and Infidelity
As a good privacy measure, you can put your profile photos in a 'private gallery' and only provide them to those who ask.
These photos will not be shown on your profile.
Warning: Online Cupids (Fake Profiles) Have Been Among Members Since 2013!:
Our male testers were contacted by women very quickly.
In order to read the messages, we had to pay. About ten per cent of these 'messages' looked like badly-translated automatic text.

Conclusion 1:

Although you'll encounter few scammers and externally-created fake profiles, you will come across in-site Online Cupids who are nothing more than fake profiles.

Conclusion 2:

With the remaining 90% of coins, we managed to make good contact with many other people in the database.
AshleyMadison Experiences in the UK
There is a high quota of men (82%). That's not good: even for an affair dating site. It's also a pity that couples cannot register. The credits system (a virtual present for a single person costs, for example, 20-50 credits) reminds us of the business model of a brothel. Women receive no benefits. That's fair enough, though that doesn't make for a very high percentage of female members: that's what the AshleyMadison experience of our UK users showed us.
AshleyMadison.com - Costs:
Women enjoy free membership.
AshleyMadison's pricing model works off a system of credits, rather than a time-based flatrate.
"Credit packages" begin at the "Introductory" £30.00/100 credits.
The naughty secrets behind AshleyMadison...