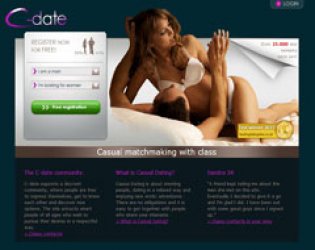 C-Date.co.uk Affairs review 2021:
C-Date.co.uk Affairs is one of the biggest and hottest casual dating sites out there at the moment. It already claims 3,200,000 UK members and many more on a worldwide scale. There are no bells and whistles here, either: C-Date is about casual sex. It is for people who have specific wants, needs and desires and wish to find a partner who can fulfill them. Interested? Read on...
What is the C-Date Experience?
Women find the C-Date experience particularly attractive because it offers a high level of security. Photos are "fogged" unless members decide to show them off. Furthermore, users can choose who they show their photos to. While there are of course more men than women on the site, women are able to message for free, whereas men have to pay.
So What Features Can I Get on C-Date.co.uk?
When you sign up to C-Date, you must choose from a multiple-choice list when explaining your tastes and preferences. You will then receive matches and be able to message them. This matching algorithm is used in order to find the most suitable sexual partners for C-Date members. That means there is no search function.
Overall, C-Date certainly has a unique air of sophistication and class that a lot of other sex dating sites seem to lack. It is clear to see why it became one of the most popular sites in our category!
C-Date.co.uk Affairs - Costs:
You can sign up for free.
Full membership costs start from £19.90/month.