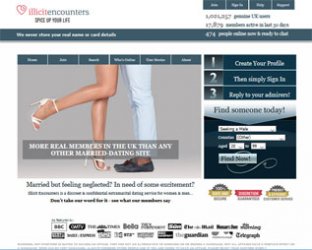 illicitencounters.com
Spice up your life
illicitencounters.com review 2021:
Illicitencounters.com was launched 2004 and belongs to the biggest dating sites for married people in the UK. The site has been featured and praised in a number of national media channels including BBC and the Independent Newspaper. IllicitEncounters can also boast over 1,000,000 registered users. Some of them are not necessarily looking for a sexual partner, instead...
...members tend to be seeking a soulmate or wanting to escape a loveless marriage.
IllicitEncounters UK: Profile Sign Up
IllicitEncounters.com certainly has a smooth sign up process, to the point of where there is even a profile generator. All you need to do is pick attributes related to your appearance, your personity and your match. After you sign up and are approved by the admin team (make sure you're a UK resident), you're ready to go!
IllicitEncounters.com: Features
At IllicitEncounters you will find that it has features in abundance. Some are free, including the browse and search functions (you can even do a member search), virtual gifts and kisses are also possible and can lead to a bit of flirtation. With their Matchfinder feature, you can simply type in your preferences and receive daily matches (though this algorithm isn't as sophisticated as something you'd see on the likes of EliteSingles). Don't forget to check out who is online (there is a meter that displays online users). Should any issues arrive, you can contact IllicitEncounters through support (email and telephone).
Cost comes when you wish to use their 1 on 1 chat function, or send other users a message. There is also a "Letters to Sara" section where you can write in and tell Sara about your marriage situation or relationship(s). If your letter is good enough, you can even win Letter of the Month! These often come with comments so it acts very much like a forum.
IllicitEncounters UK: Is It Worth It?
IllicitEncounters certainly has a lot going on, and it is specifically designed for the UK (as well as the Republic of Ireland, as it is possible to search for members there. The focus of course seems to be more on those who are in loveless marriages, rather than married people looking for the thrill of an affair.
illicitencounters.com - Costs:
Free sign up.
For full access to all features you'll have to register for £249/75 days.