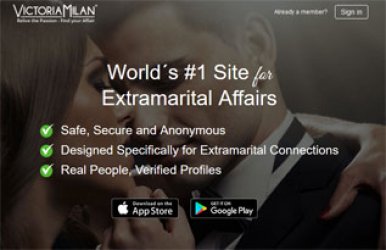 Victoriamilan.com review 2021:
Cheating is no doubt a thrill for some people, and this is the reason VictoriaMilan.com exists: to satisfy that craving. A discreet married dating site that focuses on married people and those looking for a bit of side-action, VictoriaMilan.com is also dedicated to keeping things as low-key as possible.
VictoriaMilan was founded in 2010 in Norway. Although it began in a small country, it can now boast around 3,000,000 members all over the world. It is a truly international site, and one that aims to keep extramarital affairs on the down-low.
VictoriaMilan.com Experience
VictoriaMilan is for those who want to experience a raunchy affair when they login. It is full of people who, for one reason or another, are looking for an affair or relations outside of their current relationship. This means that most users you encounter here know what they want. While the website itself is quite simple in its layout...
...the motives behind it can be complex.
When looking through profiles on VictoriaMilan, you need to remember that a lot of people are looking for the experience of thrills and excitement. It may be possible that people are going to back out of whatever plans they have made, for whatever reason. Perhaps they get cold feet at the last minute. By keeping this in mind, you will be able to use VictoriaMilan more effectively.
VictoriaMilan.com Features
VictoriaMilan offers a rich list of features. Extramarital affairs can be difficult to hide, especially in this day and age, therefore VictoriaMilan provides customers with a way to keep their extracurricular activities secret. When it comes to initiating a conversation with other members, 'winks' can be sent. This can help to spark up some kind of interest. If you get a wink back, there is a good chance that sending a message will return a positive reply.
Not only can you send emails, but you can also use an instant messaging chat service, of course...
Your Secrets Are Safe: There is even a panic button!
The VictoriaMilan panic button will switch you over to a completely innocent website, such as YouTube, should your spouse walk in at that particular moment. This of course depends on how fast your computer and Internet connection are: so watch out!
Victoriamilan.com - Costs:
You can sign up, create a profile and search for free.
Monthly subscriptions start from US$19.99/month.