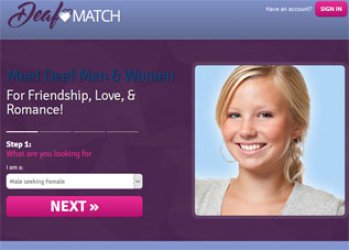 DeafMatch.co.uk
Meet Deaf Men & Women For Friendship, Love, & Romance!
Link: www.deafmatch.com
DeafMatch.co.uk review 2021:
Being deaf is not always seen as a disability. At least that is what the operators of DeafMatch.co.uk aim to communicate. Singles who are hard of hearing or who are involved in deaf culture will sometimes find that communicating with a hearing partner can be a lot easier.
At around 1,500 members, DeafMatch isn't a big dating site but it does provide a dating platform for those who want to meet other deaf singles.
Login to DeafMatch: How does it works?
When you login to DeafMatch, you can set up a profile pretty quickly and tell the world about yourself. It is important to upload a photo or else no one is going to see your profile… and make sure to spend some time crafting it as well. Then you can start searching for singles using either Basic Search or Advanced Search.
The Review: What we found on DeafMatch.co.uk
In our review, we looked straight into the DeafMatch members' area to see what kind of singles there were. A good sign was that there were a lot of profiles with photos and many of them had been filled out… So, there don't appear to be a lot of fakes. When looking at profiles you can see when singles are online, so it'll show you the best time to message them.
While there are a lot of text description fields that allow you to express yourself, there aren't really any that are specifically related to deaf culture or dating. In this sense, the platform tends to be a rather generic one
Communication on DeafMatch: Features
Communication features on DeafMatch are rather standard as well. You can use a chat room and flirt with other deaf singles, or you can send private messages. There is also a private instant chat if you see that someone is online and adding people to your friends' list will also make it easier to keep in touch. You can even use video chat, which is perfect for those who want to communicate via sign language. All you need to do is click Start My Webcam.
DeafMatch.co.uk - Costs:
For chatting in the chat room, and even using instant chat when members are online, it's completely free.
For unlimited communication and seeing who has visited your profile, prices for subscription start at £6.99/month.