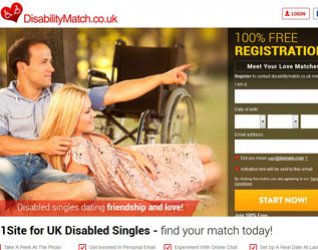 DisabiltyMatch.co.uk
Disabled singles dating - friendship and love!
DisabiltyMatch.co.uk review 2021:
DisabilityMatch.co.uk is the best site in our disabled dating category. A member of the Dating Factory network which hosts around 12 million profiles, DisabilityMatch aims to provide disabled singles in the UK with the opportunity to connect with others and possibly find love. Founded in 2008, this dating site has a range of different disabilities represented.
Features on DisabilityMatch.co.uk
DisabilityMatch provides its users with a considerable amount of features when it comes to the singles presented. What can be slightly irritating is the flirt feature that pops up in the corner of the screen, showing you a profile to 'flirt' with. While this can be useful, some people may find it annoying if happens again and again.
Another great ice breaker is the 'Send a Card' function. Some of the cards are adorned with greetings such as 'Happy Birthday' and 'With Love'. If you do find a couple of people that you fancy, you can add them to your favourites list. DisablilityMatch.co.uk also has a mobile site that is compatible with any tablet or phone that has an Internet browser, so you can check your message on the go.
DisabilityMatch Experience
Our experience with DisabilityMatch.co.uk was that communication was flexible. For those who do not want, or indeed are too shy to, start a conversation with someone there is the flirt option as mentioned previously. It is a great way of showing interest in someone without having to pose a question or think up a message to write.
One positive aspect of DisabilityMatch is that the users here seem to be quite genuine: even more so than those on other dating sites. It is clear to see that a lot of effort has been put into the profiles. What is also nice about DisabilityMatch is that they have a customer support team. If you have any issues or concerns, all you need to do is contact them via email.
Upgrades at DisabilityMatch.co.uk
For members to decide to upgrade, there are a great many more options available. You can enjoy the use of priority listing, view media galleries, utilise an advanced search, chat and send messages. For those who choose the extra VIP upgrade, you can be made visible to all members and will also be able to connect with everyone.
DisabiltyMatch.co.uk - Costs:
Profile creation is free.
Subscriptions start from £24.90/month.