One of our recommendations in the category
"Gay dating":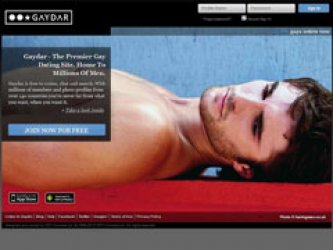 Gaydar.co.uk
The Premier Gay Dating Site. Home To Millions of Men.
Link: Gaydar.co.uk
Gaydar.co.uk review 2021:
Gaydar.co.uk is an international dating site aimed at gay men. Unlike Gay-Parship, it tends to cater towards those looking for friends or a hookup, rather than those looking for a relationship. Owned and operated by CPC Connect Ltd, it can boast a reasonably large number around 6 million registered users from over 140 countries. Founded in 1999, Gaydar has been in the online dating game for a long time.
What Gaydar UK Has to Offer
When you first go onto Gaydar UK, you will automatically be given the English version of the site but you can change it by simply choosing the language you want. Other languages offered by Gaydar include French, German, Spanish, Italian, Portuguese, Dutch, Chinese and Russian.
Even before you sign into your account, a meter will show you how many people are online at that particular moment. This is a worldwide number, but it can be a good indicator of how many singles are around your area.
While browsing Gaydar for singles, you can display what you are looking for on your profile. Users can choose between a number of statuses: 'boyfriend hunting', 'chatting', 'looking for a date', 'hookup now/later' or 'away'. There is also an option to write your own status. Clicking on 'tracks' will show who has visited your profile.
If you find users that you like, you can save them to your favorites in order to keep up-to-date with them. A GPS function is also available which shows your location, as well as the location of nearby singles. Upon signing up as a Guest you can send up to 8 messages a day, announce travel plans to other users, save up to 100 messages and chat and block undesirable users. There are also specific searches you can run, such as for guys who have videos.
Gaydar Radio 'Gaydio' and Other Unique Features
In the spirit of keeping the gay community like a community, Gaydar radio or 'Gaydio' is available as a free option on the site. All you need to do is type in your postcode which sets your location to ensure that you receive the most relevant content. Gaydio is available throughout the UK, including Northern Ireland.
Gaydar Mobile
For those on the go, Gaydar also has a mobile version. Depending on the device you have, you can either go onto the app store or download it to your Android phone. Gaydar mobile affords you all the same features, just with more flexibility for when you're out and about.
Gaydar Upgrade Voucher
Now and them, an upgrade voucher for Gaydar will be offered to both existing and potential users, offering a discounted premium account. Those who decide to avail of the upgraded account will enjoy a number of benefits including the ability to add people to their friends list, send unlimited messages and enjoy unlimited features.  As a premium member you can also choose up to 3 locations.
Gaydar.co.uk - Costs:
Signing up as a Guest, searching and limited communication is free.
Full membership from £6.99/month.