One of our recommendations in the category
"Gay dating":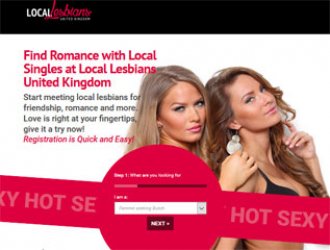 LocalLesbians.com
Find Romance with Local Singles at Local Lesbians United Kingdom
Link: www.locallesbians.com
LocalLesbians.com review 2021:
With few options for lesbian singles in the UK when it comes to online dating, LocalLesbians.com aims to provide women who likes women the option of finding someone who actually lives nearby. With a databank of 10,000 members, it does appear that users are concentrated in more urban areas.
Local Lesbians Login: That´s how it works!
From the login at LocalLesbians.com, you can choose to describe the type of girl you are seeking. Options range from choices such as "femme seeking butch", "lesbian couple seeking femme", "butch seeking butch" and a few other combinations. So, there are options for not only monogamous lesbian dating, but also for those who may be seeking to add a third or even a fourth to their relationship.
LocalLesbians.com Review for the UK: Lesbians in the Area
In our review, we found that LocalLesbians was somewhat focused on singles who are looking for girls in the nearby area. This emphasis on "local" is particularly important in the UK lesbian community, mainly because there are few lesbian dating sites or apps out there at the moment. While this is changing, it is a slow change.
As a result, there are various types of search filter that you can use to find who and what you're looking for. Member profiles had various points of interest, including those looking for one-on-one relationships as well as even "discreet" relationships… naturally a good choice for those who may not be out yet.
Local Lesbians Chat
If you want to get talking and flirting right away, there is a Local Lesbians chat room that can introduce you to other singles almost immediately. There is even a webcam section… however be careful, as this can sometimes link you to another site which is a bit more risqué.
If you're not interested in constantly flirting with new people and want to really get to know someone then there is a private messaging feature that'll let you message other singles individually. Even when they're not online. This is probably the best way to get to know someone, and one that we would certainly recommend.
LocalLesbians.com - Costs:
Signing up and chatting is free.
You can get a premium membership which starts from £5.95/month.