One of our recommendations in the category
"Gay dating":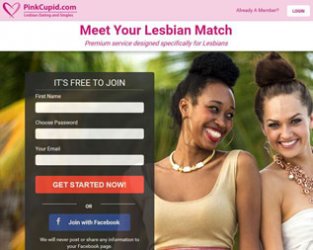 PinkCupid.com review 2021:
PinkCupid.com a dating site that focuses solely on lesbian dating… It draws from a database of over 30,000,000 users and is widely available in the UK.  Dating is of course the focus, but a lot of people here are also interested in friendship or "seeing where things go". Due to being international, this dating platform can give you access to lesbian singles from around the world.
Login to Lesbian Dating on PinkCupid
Login at PinkCupid is quick and simple: you just need to provide your name, email and a password and you'll instantly be in the members' area and be able to see your "matches". Bear in mind these matches aren't based on any criteria… Except maybe for the fact that they are all into women.
To get more "exact" matches and find people you'll potentially click with, simply click on "Improve Matches". This provides a basic matching function that lets you choose certain criteria (where they live, physical characteristics, whether they consider themselves "full" lesbians, bisexual etc.).
There are a lot of quality profiles on PinkCupid. It is quite true that...
...members on this dating site appear to be serious about finding a romantic partner.
If this is what you are looking for, then you have rather okay chances of finding a partner that suits you. Many of the profiles also have high-resolution photographs and are well-written, so you know you are getting a decent standard at least.
Our PinkCupid Review: Mobile Dating App and Desktop for Lesbians
We found during our review of PinkCupid that they had mobile and desktop sites as well as an app. So, this just makes dating for lesbians a little bit easier: the app version is available for both Android and iOS users and can be downloaded quickly. You can use instant messaging or just send private messages: whether or not someone is offline. And of course, you can do this pretty much on any device.
Lesbian dating can be challenging for women who are looking for a female partner, simply because there doesn't seem to be as much choice. In this regard, it is commendable that PinkCupid.com is attempting to create a site where women can chat, flirt, meet up with and possibly start a relationship with other women.
PinkCupid.com in the UK: Features for Dating
Pink Cupid UK has features that can be found on most Cupid Media dating sites. These including things like instant messaging, sending and receiving emails and performing a search for other members: pretty much what makes the core of a good site for lesbians. However, there are a few things you will have to do if you want to spark more interest, though. Adding a photograph will help you in the long run.
PinkCupid.com - Costs:
Once you've created a profile, you can communicate with paying members for free. You can also "send interests" free of charge and use basic matching to find singles.
For full features such as being able to communication with everyone, highlight your profile in the search results and browse others' profiles anonymously, prices for subscription start from £10.00/month.
Add your photo for the best results!