One of our recommendations in the category
"Gay dating":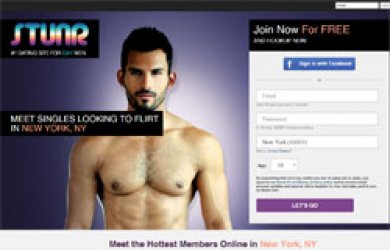 Stunr.com (DEAD) review 2021:
Stunr claims to be a "premier" gay dating site and app: it's primary aim is to find other local gay men for dating, hook-ups, one night stands and more. From our testing, there appears to about around 14,000 members in the UK.
Stunr Login: How to start
Simply login to Stunr.com with your email address, a password and your age. Then you can create a profile and go into the specific details (straight & curious, bi, gay, questioning etc.). It's also very specific as you can go down to body type, how hairy you are, height, eye colour etc… All quite useful if just a simple hook up is what you're looking for.
Stunr.com Review:

These are our experiences
Our review found that Stunr was something like a social network for gay men – you can browse who is online at any given moment (the number varies depending on where you are as well…). Search can be done through who is currently online, but you can also look for offline messages and use filters such as finding only profiles that have a photo. Clicking "Most Popular" will also give an overview of the best members.
Chatting and messaging can also occur regardless of whether a member is online or not. So it's pretty easy to keep in contact with people even when they're offline… They'll just message you when they sing into Stunr again!
Dating on Stunr: The App and Features
Stunr is available to download as a dating app (for both iOS and Android). So, you can enjoy gay dating on the go and still look at detailed profiles, send messages and more. Other features also allow you to do things like check "New Locals"… So if you're looking for a hook up that's nearby, you can see whoever is hot and free and coming in!
Stunr.com (DEAD) - Costs:
You can sign up for free, search for other members.
You can send unlimited messages, see private photos, view full size pics and even take advantage of their 3 month guarantee if you sign up for a premium membership from US$8.25/month.