One of our recommendations in the category
"Gay dating":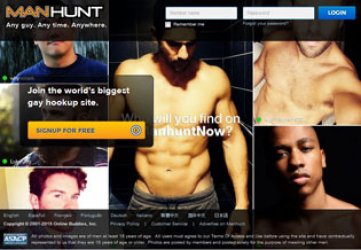 Manhunt.net review 2021:
Manhunt.net can boast about being one of the oldest gay dating sites on the Internet. Indeed, it is very much aimed at gay and bisexual men. Unlike Gay-Parship, it's focus appears to be more hookups, sex and casual dating. The users here seem to number around 4,000,000 profiles, though we'll admit that in our experience active profiles seemed somewhat lower.
Manhunt.net Mobile App: Hunting on the Go
Sitting on the computer is all well and good, but Manhunt.net users can use the mobile app which allows you to flirt and chat everywhere. For travellers, this is a paricularly useful feature. Users of Android and iOS phones can avail of it. Unlike Grindr, however, you don't have to download anything in order actualy use the service.
Features on Manhunt
Features on Manhunt include more than just those typical of a dating or hookup site. There is also a message forum and even a health section (which is a lot like a magazine) about health issues in the LGBT commmunity. Some of the pressing issues that the magazine covers include decriminalisation, open relationships, contraception and more.
Of course, Manhunt offers far more...
There is a handy Track List that records the profiles you've looked at. Should you want to look at someone's profile photos again and again, it can be quite useful!
Video chat is also possible with a variety of live cams. Aside from this, Manhunt also has the usual chat and messaging features found on most other sites.
Adding friends is also possible so you can keep up to date with your dates and hookups.
For those who don't want to be bothered all the time, you can set your profile to "busy", as well as use a number of different settings.
Manhunt in the UK
The United States is probably where Manhunt.net is at its strongest, in spite of how old it is. UK users may not take as much from it, however. Gay singles in the UK may have better luck with some of the bigger dating sites such as EliteSingles (if seeking a serious partner) or more of the UK-specific dating sites we have right now.
Manhunt.net - Costs:
Signing up to Manhunt.net is free.
For unlimited membership, costs begin from US$12.00/month.