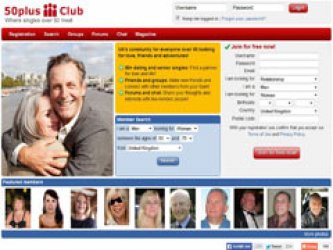 50plus-club.co.uk review 2021:
50Plus-Club was founded in 2005 and, as the name suggests, is aimed at singles over the age of 50. Primarily available in Canada, Germany and the United Kingdom, 50Plus-Club is sometimes a lot more than a senior dating site. With 280,000 visitors every month, over 50s need not despair when it comes to finding a date.
Over 50? Join the Club…
Online dating is not something that's confined only to the young. Mature dating has also become a thing and therefore the 50Plus-Club was set up to meet this demand. When you log into the site, you will find a tastefully-done, modern website. It is also quite minimalistic in its decoration and design.
There will be pictures of senior singles on the 50Plus-Club site the moment you log on, but there are actually quite a lot of attractive 50+ singles. Remember one thing, however...
...in order to joint the site, you will at least need to be 45+.
This may help you to feel more comfortable about the people who go there. When it comes to age, some people would prefer to just meet somebody who is on the same wavelength.
What Can Be Found at the 50Plus-Club?
To get the best experience, you will need to use the 50Plus-Club's features to your advantage. This means filling out your profile in full and uploading a picture. 50Plus-Club urges its users to do this in order to make use of features such as the chatroom, the gallery where you can post various pictures, and even set up a blog. There is an interactive discussion forum section where you can partake in a variety of different talks depending on your interests. This can also be a brilliant way to get chatting to other people as well and possibly even helping you to find a date!
Of course, the 50Plus-Club is for more than just those looking for love. Friendship and companionship can be found here as well. The Local Groups section can be a great place to start, where you will find things like game nights, museum trips, wine tasting and much more. Some of these groups even plan trips away, so there is a lot of opportunity to get out there and do things.
50Plus-Club Upgrade Option
If you like 50PlusClub's features and would like to avail of more, it may be a good idea to become a 50PlusClub Premium Member. With a 50PlusClub Premium Membership, you can enjoy such benefits as...
Being able to see who has visited your page.
Message other people.
Choose the Certified Member option.
Certified Members will have greater success in contacting others, primarily because they are perceived as safer. The process of becoming one involves filling out a form and adding a photograph. In order to verify and confirm the information, you must send the appropriate documentation such as a driver's license or your passport.
50plus-club.co.uk - Costs:
You can first try out almost all features for free.
Full membership prices start at £19.90/month.