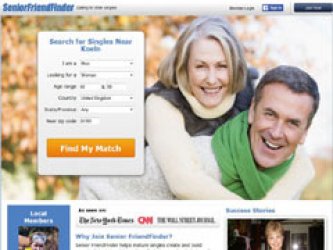 Senior FriendFinder
Dating for older singles
Senior FriendFinder review 2021:
"Dating for people with experience" is one way you could describe the mature dating site Senior FriendFinder.com. In this case, 'Senior' appears to refer to anyone who is over the age of forty (though we think that's nonsense). Senior Friendfinder is a part of Friend Finder Networks, and therefore has links to a much bigger circle of dating sites like FriendFinder.com. At any one time, Senior FriendFinder shows an average of 30,000 users online.
In total, they have somewhere in the region of 6 million registered users can be found on the Network.
Senior FriendFinder.com Experience
Our first experience of Senior FriendFinder.com was that there were a lot of singles profiles. Once you have signed up with a free account, you will be presented with a list of profile photos. This depends on the kind of preference you set, whether you are looking for men or women. You can change and narrow your search down, so it is possible to do a general search of the whole site and see what kind of singles are there for you.
Most of the singles here tend to be 40+, not necessarily 'senior' in the knitting-and-bingo sense, but certainly mature. There are divorcees, those who have never been married and even couples looking for a good time. With an experience on Senior FriendFinder, you will come to realise that age is just a number and that you'll have plenty to choose from when it comes to dates.
Senior FriendFinder.com Features
Since Senior FriendFinder already features big part of the Friend Finder Network, this dating site has a wide range of features and a well-established community. Users can search for singles well outside their local town or city. Email, instant messaging and even live webcam services are available to upgraded members. There is also a 24/7 customer service hotline that you can phone if you have any problems.
A really cool feature of Senior FriendFinder is the 'winks' section. Sending a 'wink' is a lot like an ice breaker, because it shows your interest in the other person. If they send you a wink back, you'd have even more of an excuse to message them!
Senior FriendFinder - Costs:
You can sign up for free and then decide if you want to pay for the full membership.
The full access starts at US$14.22/month.