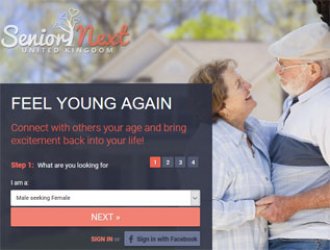 SeniorNext.com review 2021:
For many people, getting older no longer means that you're out of the dating game. At SeniorNext.com you'll find a reasonable database of 10,000 members and the numbers seem to be growing in the UK…  The aim is naturally for singles who are over the age of fifty. Dating here doesn't have to be serious either… a lot of the singles are looking for activity partners as well, or even new friends.
Login to SeniorNext.com: How does it work?
With your first login at SeniorNext, you can sign up with Facebook so the whole process of creating a profile is quicker and easier. If you don't have/trust Facebook, you can also sign up the regular way with email. Thankfully whichever way you do it, the process is quite quick and you'll be thrown into the members' area almost immediately. Unfortunately, you tend to be brought the prices straight away which is a little off-putting… But just click "home" to see the members who are available!
Review of SeniorNext: What singles want
With our review of SeniorNext we found that although dating was definitely on the cards for a lot of people here, the willingness to simply get out there and meet new people was also there. It's therefore possible to look for friends to simply travel with or get out and do different activities. All of it totally depends on what you encounter when communicating…
SeniorNext Features for Chat
Communicating online can sometimes be daunting so SeniorNext has focused on features that ensure people communicate with one another… Using a chat room will allow you to flirt with other singles and even use live cams: though this isn't completely necessary and if you want, you can just stick to text-based chat.
While you can encounter other singles in the chat rooms on Senior Next, don't forget about their search. It does focus on those who are nearby, however there is also the capacity to search internationally. So, if you're looking to meet someone in another country, that's possible too.

SeniorNext.com - Costs:
With the chat room, you can flirt and have conversations for free. Basic search also lets you find people near you, free of charge.
If you'd like to make a deeper connection and get unlimited messaging then prices for subscription begin at £6.99/month.