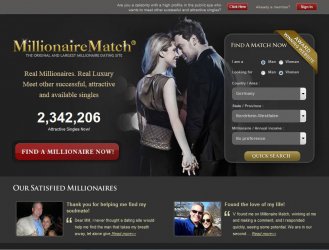 Millionairematch.com review 2021:
MillionaireMatch.com is a dating site that is geared towards a specific type of person, namely successful people. The MillionaireMatch.com dating site was founded in 2001 by Jason Du, and has since won the Best of the Web Award. Boasting around 2,300,000 members, MillionaireMatch is active in a number of countries. This includes places like the United States, Australia, the United Kingdom and Germany. Contrary to what many people may think, MillionaireMatch is not aimed towards sugar daddies and sugar babies. Rather, it was created as:
A platform for successful and wealthy people to meet one another.
Login: MillionaireMatch Features
When login to MillionaireMatch.com, you will be presented with a detailed list of preferences that you can fill out. During the process, you can use this list to describe yourself as well as your ideal partner. By doing this and putting in exactly what you are looking for, you will be more likely to come across matches that suit you.
Features on MillionaireMatch include:
A full messaging and chat service.
Dedicated and attentive customer service.
advanced search options.
Using the advanced search will help millionaire singles to find more people in their area, but it is of course possible to change the settings depending on where you want to start looking.
MillionaireMatch Experience
When we tested Millionairematch.com the experience for us was rather positive. This particular dating site has a large focus on more serious relationships and marriage, so there will be a higher caliber of individual here. Many have found MillionaireMatch a very good dating site to use when looking for a partner.
It is of course necessary to be a little vigilant when on dating sites, but generally singles who pay for membership will take it seriously.
MillionaireMatch Upgrade
It is free for members to sign up to MillionaireMatch.com, an upgrade is usually the best way of ensuring that you are able to use all of the site's features. The Gold Member Account allows you full access to all of the features that MillionaireMatch has to offer.
Another interesting feature of MillionaireMatch is the income verification. If you have an income of over $200,000, you can then get it verified by sending in certain documents. Afterwards, a 'Verified' badge will appear on your profile. You will also have the opportunity to showcase your luxuries.
Millionairematch.com - Costs:
It's free to place a profile
Membership with full-access only costs US$19.95/month.
Time to enrich your lives!