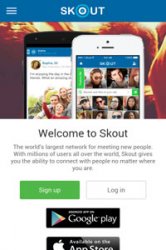 Skout.com review 2021:
One of the newest and fastest growing trends in online dating is the rise of mobile dating. And one of the big players in this area is Skout. According to its website, Skout is one of the biggest global mobile network designed for meeting new people. It is a location-based social network, and has over 5 million users. By using Skout with  our mobile device,  you can meet new friends at a neighbourhood bar, at a concert or on vacation in Europe. It is also interesting to note that:
Skout has members in over 100 countries.
So what makes Skout interesting is that it is both an online portal and a mobile app, which is available for both iPhone and Android devices. Creating a profile is quick and easy on both platforms.
One of the fun features on the mobile version of Skout is the "Shake to Chat" option, where you shake your phone and you then are connected completely randomly with another user. After 40 seconds, the profiles of the chatters will be revealed to one another.
The mobile app interface is smooth and intuitive which makes looking for someone much easier and fun.
Skout.com Experience
Our testing experience taught us that Skout is primarily used as an online social networking app. This means that many of its users are not just in it for dating. There is no doubt that Skout can help singles when it comes to finding a partner, but don't consider this your only option if that is what you are looking for.
Those who may have moved to a new city or town might also want to take a look at Skout. It can offer a wide range of different people, so you will be bound to find a few friends and build up a social network of people that you can hang out with. In this respect, Skout is in fact a very versatile app and is therefore suited to more than just singles who are looking for a date.
Skout.com - Costs:
The app download is free.
In-app purchases begin from US$4.99/500 points.