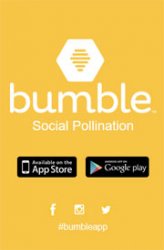 Bumble App review 2021:
Bumble is a mobile dating app with a special twist – it heralds itself as the "feminist" dating service that puts women in control. The background for this idea comes from female singles' experiences of dating on Tinder, where they are often overloaded with messages. The app is location-based and also focuses on making friends, and as is open to both heterosexual and homosexual connections.
Bumble Dating App: How It Works
Bumble functions like a lot of other dating apps: you receive matches based on your location and you swipe through them (right for "yes" or left for "no"). When there is a mutual like, only female members are able to message males (except in the case of same-sex connections and those looking to make friends, in which both parties have the opportunity to send the first message). The option to send a message lasts 24 hours before disappearing. If you feel that 24 isn't long enough, Bumble will allow you to extend your time for another 24 hours on one connection per day.
The Ethics of the Bumble App: Guidelines to Follow
Bumble is unique in that it has a set of guidelines and the intent to make sure that everyone follows them. The rules of the app are actually quite simple:
Don't pretend to be someone else. For this reason, singles on Bumble have to login with their Facebook account. This is where information such as your age, name and where you work is used in order to create your profile.
No pornographic material: Racy pictures are strictly forbidden on the dating app and therefore it is a good idea to also avoid topless photos (for both men and women!).
No photos of children. People with kids may want to have a few photos showing the younger members of their families, however this is also strictly forbidden for the safety of the children in question. It is alright to mention that you have children in your profile however.
Singles who do not follow the rules will be likely to receive a warning from the app's service team. Warnings that are ignored on Bumble will end up with your account being deleted.
Premium Features
Bumble Boost is one of the app's most recent premium features and offers singles the chance to make dating quicker and easier. By subscribing to Boost, you will be able to immediately see all users who have liked your profile… allowing you to match with the instantly. An added bonus is that you can also re-match with any connections that have expired, so you miss out on nothing. To add to that, you can also extend all matches.
Bumble App - Costs:
Downloading the app and sending messages is free for all users.
For those who want to enjoy premium features such as Bumble Boost, subscriptions start at

£9.99/month.