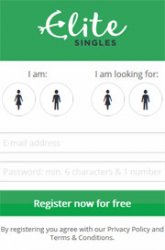 EliteSingles App review 2021:
EliteSingles an online dating agency that specialises in matchmaking singles, and especially prides itself on the very high number of university graduates (71%). Its matching method is a special type of personality test that every user must take when they join the site. There are already well over 30,000,000 members -with 18,000 new users joining in the UK every day - and the test is completely free.
The Elite Singles App Review for the UK: In what way is it different?
Our review showed that EliteSingles.co.uk isn't just available as a website: they also have an app version for Android and iPhone. When it comes down to the actual differences, however, singles will find that there isn't really much of a different. The main difference is that the app version is smaller visually and much more compact: essentially, it's a "no frills" matchmaking service for singles on the go.
When travelling you can access Elite Singles either via your smartphone or tablet: this means sending and receiving messages to your contact proposals. It also means that you can check if you've received any new partner suggestions and/or messages wherever you are. For those seeking a serious relationship but want the ease of use that other mobile dating apps offer, EliteSingles is a decent alternative.
Login: EliteSingles.co.uk Personality Questionnaire and Contact Proposals
When you first sign up and login to EliteSingles, you have to complete a personality test. This test focuses on various aspects of your personality (29, to be exact). Through the results of the test, the algorithm will then match you up with contact proposals (or partner suggestions) based on matching answers that are deemed "compatible".
Each contact proposal that you receive will, in theory, be highly compatible with your personality and therefore will be a good suggestion for a "date". You're usually sent 9-10 new ones per day so, although you are unable to search for new singles, EliteSingles focuses on the quality of potential partners rather than how many are out there.
Mobile Dating with EliteSingles
Mobile dating allows users on EliteSingles to simply send messages and read their new contact suggestions while on-the-go. So, you can be pretty much up to date with everything that happens when organising new dates and getting to know potential partners. However, it is highly recommended that you take time to do the test and there it's best on a computer.
Is anything free on EliteSingles?
Taking the Elite Singles test is completely free. You'll also receive an evaluation of your personality, and receive your contact proposals. Updates are also given free of charge, and you can easily download the app at no extra charge. To show a bit of you and your personality off, you're also able to upload up to 24 photos. For unlimited communication where you really get to know your potential dates better, you'll have to pay a subscription.
EliteSingles App - Costs:
You can sign up, do the personality test, see your contact proposals and even upload 24 photos for free.
In order to avail of unlimited communication, talk to your contact proposals and organise dates, prices for subscription start at £29.95/month.