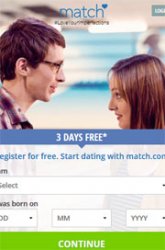 Match.com App review 2021:
Match.com has been around for a long time, having been set up in the United States around 1996. Drawing from a data bank of over 60,000,000 members, there are over 450,000 in the UK and this number keeps growing.
Match.com App for the UK
Match.com has been advertising both its online dating site and app in the UK for a while now, and hence spreading more awareness about the service. The app is available to users of both Android and iOS devices, meaning that there is a much wider user base overall. For Android users in particular, the app also works on a smartwatch so you can receive messages directly!
Other Features on Match.com
The app pretty much has all of the usual features you'd expect: the ability to search for other singles, sending "ice breakers" which help to get the conversation flowing and a few more. Users can also put themselves in the "Spotlight" in order to boost their profile's visibility… which in turn will get more visitors to your page!
Match Costs
It is possible to get a free trial of Match.com from time to time, but this is a deal you'll have to look out for! Other than that, users pay a subscription in order to use all the full features such as communicating, boosting their profile. All of these helps to ensure a smoother and more successful dating experience for everyone involved.
Match.com App - Costs:
Download the app and sign up for free.
Full communication and other features begin at £9.99/month.