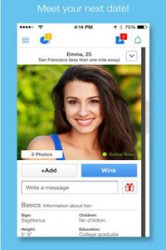 Zoosk.com Mobile
More singles who are more your style.
Link: www.zoosk.com
Zoosk.com Mobile review 2021:
Zoosk.com, after Badoo, is the second-largest social dating site in the world. In total, there are over 30 million current members and nearly 1 million in the UK alone. And of course…
...14 million fans on Facebook and Twitter.
The numbers speak for themselves…
The Zoosk App (iOS, Android) is successful in every way: its appearance, for one thing, is top-notch. At the Google Play Store, 80,000 out of 120,000 ratings have given the Zoosk mobile app 5 stars. What more could one want?
Get Yourself a Taste of the Zoosk Mobile App
Obviously the Zoosk App is populated by Zooskers who already have a profile on the website and even use the mobile app regularly. Further costs won't be an issue for them.
Whoever does not still have a Premium Account on Zoosk and still wants to just take a look at the Zoosk app, can of course download it and then try it out for free.
What's Free on the Zoosk App?
On this dating app, you'll have access to the Zoosk Carousel: picture voting, an old classic. When playing, it is simply a case of being presented with a picture of someone and clicking "Yes", "No" or "Maybe". Don't forget to post up a couple of pictures on your own profile as well!
Earn Coins on the Zoosk.com App Carousel
You don't always have to have a picture up in order to play the Zoosk Carousel, of course, but it helps. If you start judging pictures on the Zoosk Carousel, you will be able to earn Zoosk coins. Basically, the more pictures and profiles that you say 'Yes' to, the more coins you will earn. This may lead to you earning enough coins so that you can send a cool virtual gift to one of your favourite contacts!
What We Particularly Like About the Zoosk App…
To put it simply, the overall usability of the app is definitely a huge plus. No to mention how clear and simple its layout is. The Menu Navigation is also a piece of cake. With regards to the coins that one can earn, it is also possible to get them when you are using the free version, it is quite easy to get an impression of the inner workings, the functions and the other members at Zoosk.
Zoosk.com Mobile - Costs:
Browsing around is free.
Sending and reading mails cost £18.95/month.