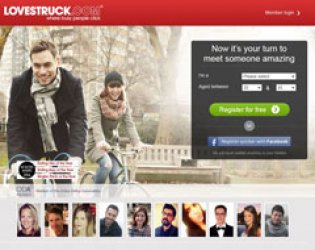 Lovestruck.com review 2021:
Boasting around 200,000 members, Lovestruck.com is a dating site for the busy professional and has been so since 2010. This can be seen as a relief, especially by people who are interested in meeting someone new but simply don't have the time for it. As a result, Lovestruck does most of the work for you and organises a number of events whereby you can meet other people. You can also simply message other singles and ask people out on individual dates yourself: this gives you plenty to choose from.
Lovestruck Events
One particularly unique aspect of Lovestruck.com is the events that are hosted. There are Laissez-Faire events and Activity Events. Laissez-Faire are more relaxed, generally casual meet-ups at a nearby local venue. Activity Events are more structured and are focused around things like going to the cinema, hiking etc.
Lovestruck Dating App
In addition to using the Lovestruck site, there is also an app version which can be used on both Android and iOS. If you're on the go or travelling for business, you can still use the site in order to meet other singles, even just for a quick drink. That's not a bad function to have when you're off somewhere new!
Lovestruck.com Features
Lovestruck offers some rather interesting further features, such as their Behavioral Recommendation Engine. This Engine is, as the name suggests, designed to pick out matches for you based on your behavior on the site. Further Date Matching Tools will help you find someone who likes doing the same things you do.
When you sign into Lovestruck, you will occasionally see Date Ideas appearing on the screen. These could be anything from a walk in the park to taking a painting class.
If you have any problems, technical or with various features, do not be afraid to contact customer service. Don't forget to verify your profile, either. This will improve your chance of getting dates, and will give you a little more peace of mind when meeting up with someone. It is always important to stay safe.
Go Premium at Lovestruck
If you choose to upgrade your account at Lovestruck, you can choose between a Standard and a Premium membership. Standard membership affords you a lot of solid services, including the ability to send and receive messages, see who has viewed your page and even enjoy discounted entry into Lovestruck events. Other things that you will be able to do will include viewing members' photo albums and keep your online status hidden.
Premium membership offers the same features, but there are a couple of extra benefits that it can also offer. These include the ability to switch on 'Incognito Mode', allowing you to anonymously browse the profiles of others. You will also be given priority treatment by the customer service team, so you won't have to wait long if you have a problem.
Lovestruck.com - Costs:
Create profile, browse and wink for free.
Unlimited access starts from £11.58/month.
Quite a party going on...