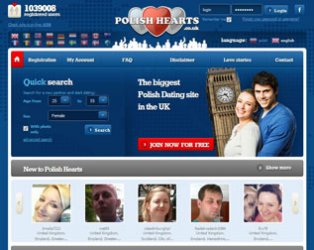 Polishhearts.co.uk review 2021:
One of the larger Polish dating sites in the UK and yet another member of our Polish dating section, Polishhearts.co.uk is geared towards Polish singles both here and abroad. Singles who are looking for serious relationships, casual dating or a wide variety of other relationships can be found here. With around 1 million registered users, it is quite easy to see how this dating site rose in popularity.
PolishHearts Login
Polishhearts.co.uk makes the login process very simple and like a lot of dating sites, you will receive an activation code. An activation PIN will also be sent to your email, which is unlike most other sites.
One thing to remember: You will not be able to interact with other singles on the site until your account has been approved by the Polish Hearts administration team. This is done to ensure the quality and safety of the profiles. If you come across any fakes, or even have any questions, just send an email to the admin.
Due to the sizable Polish population in the UK, there will be a lot of Polish singles that can be found on Polish Hearts. It is also possible to search depending on language and, of course, is open to those who may not be Polish but may be interested in getting to know someone from Poland. So there is a lot to look forward to when you login!
PolishHearts.co.uk Dating
When it comes to dating on PolishHearts, there are a lot of opportunities to 'break the ice', so to speak. You can send and receive a number of virtual 'gifts' that are represented on the profiles you view. Some of these include virtual bottles of champagne, invitations to go for a drive and other gifts as well. You can also send things like smiles and kisses, which few would argue isn't digital flirting.
Undesirables naturally appear on dating sites from time to time, so PolishHearts has found an easy way around this. Should anyone bother you, all you need to do is block their correspondence. You can also add them to a black list. Just make sure that you conduct yourself well while on the site, you don't want to be added to a black list yourself!
PolishHearts Other Features
For those who are on the go, PolishHearts also has an app that can be downloaded for Android and iOS systems. This means that you can chat, flirt and even meet up with people wherever you happen to be.
Receiving messages is free for all PolishHearts members, regardless of which type of account they have. But in order to send messages you need the premium membership.
If you get the VIP membership you'll be able to add someone to your private VIP guest list and they will be able to talk to you even if they haven't paid for a Premium account.
Polishhearts.co.uk - Costs:
Post your profile and do searches for free!
Prices regarding full membership begin at £11.99/month.