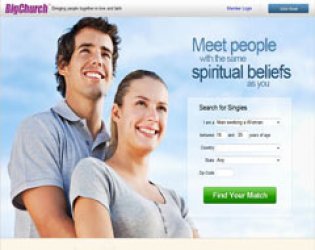 BigChurch.com review 2021:
BigChurch.com, in many ways, is like an "online church" for all Christians. Although it primarily functions as a dating site, singles who sign up will have a wide range of different things to do. BigChurch acts more like a community than anything else. Singles on BigChurch are looking for love with fellow Christians, so this is definitely a faith-based dating site.
A member of FriendFinder Networks, BigChurch is part of a dating site network that can actually lay claim to 500 million members. Due to it being a niche dating site, you will be bound to find someone there who shares your own interests.
BigChurch.com: Dating Experience
When you login, many of the members on BigChurch appear to be from the United States, but that does not mean that there are no members from other countries. One of the best places to begin searching on BigChurch.com is the forums and groups. A lot of the older members with more experience at BigChurch tend to hang around here as well. So if that is what you're looking for, you should have no problem in finding it there!
There is often a large number of members online, often from all around the world. Finding someone to chat to is usually quite easy, however finding someone local to chat to may take a little bit longer depending on where you are.
BigChurch Features
BigChurch acts like a community, you will find features like groups and forums where people can come together in order to discuss various topics. Naturally, a lot of the topics are going to be on the topic of Christian religion and spirituality. You can also set up your own blog, as well as read the blogs of other members. Remember, a blog comment is often a good way of sparking a conversation between you and another member!
If you intend on viewing a profile or even sending a message, you will have to make sure that you get a paid membership. There are also chat rooms that members can go into. In order to be able to use these chat rooms, however, you will need to wait until your profile has been approved by the administration.
BigChurch.com - Costs:
You can create a profile and search for free
Prices at BigChurch start from £14.95/month.