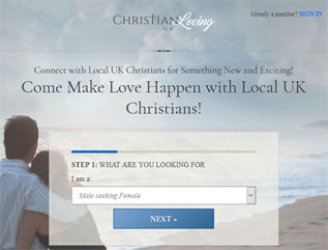 ChristianLoving.com review 2021:
Dating as a Christian can be difficult – which is why ChristianLoving.com has decided to gather singles together who share in one another's faith. The site boasts around 11,000 members… not big, but it does seem to be growing somewhat.
The Review: What can singles get on ChristianLoving.com?
In our review we examined the kinds of singles you find on ChrsitianLoving… and just what they're looking for. This is very much a site that focuses primarily on romance and, as you might guess, those who are looking for a long-term relationship. A lot of people here aren't interested in hook ups or casual affairs. In this sense, ChristianLoving is very much a platform for those who want a loving partner.
Interesting: When you login, there are options for those who are interested in finding same sex partners. This is somewhat unusual or at least not advertised as blatantly on a lot of other Christian dating sites, which does overall make it a little unique.
Communicating with Singles on Christian Loving: Features
Christian dating platforms like Christian Loving tend to have the same features for getting to know others. There is an internal messaging system where you can send private messages and flirts to others… but what's a little more interesting is their chat room. You can simply jump right in and start talking about all kinds of topics.
If you want to look for singles specifically on Christian Loving then simply use their search feature (there are both basic and advanced ones). You can look in accordance with specific criteria (height, weight, type of Christian etc.) or you can simply click "I'm Feeling Lucky" and see what surprises pop up!
Premium Membership on ChristianLoving: Is it free?
There are a few things that you can do on Christian Loving for free that help you to meet others, however if you really want to get into the thick of it we would recommend upgrading. That way you can enjoy unlimited communication and view more detailed pictures of members, to help you get an all-round view of what they look like (of course, this isn't the only important aspect to consider when dating someone…).
ChristianLoving.com - Costs:
Simply signing up, creating and profile and using features such as search and the chat room is completely free.
If you'd like to enjoy unlimited messaging with whomever you like (as well as see who visited your profile), costs for premium membership start £6.99/month.