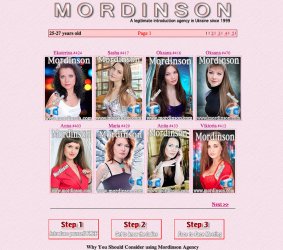 Mordinson.co.uk review 2021:
Mordinson is a marriage and dating agency which has been in operation since 1999. It is offers the opportunity for you to meet women from the Ukraine. As an agency, Mordinson aims to...
create the a connection between you and Ukrainian women who are interested in marriage.
There is little need to worry about fake profiles. Every lady has been to the Agency offices and introduced themselves. Through an interview, they are provide all of the relative information. There are only around 250 or so women at a time. This is because Mordinson aims for "quality over quantity".
Where to Find the Mordinson Agency
Mordison has its offices in the Ukrainian city of Kharkov. Should you decide to meet a few of the ladies, this will be your main point of reference. Like the Agency, the office is small and there is an emphasis on personal, individual treatment. This is one of their unique points.
The Mordison Gallery
You do not have to go very far in order to see the Ukrainian ladies on offer. There is a gallery on the Mordinson site, so all you have to do is click on your desired age group. We are always impressed by how much Eastern European women go all out in their photographs.
The way in which these ladies hold themselves also shows just how serious they are with regards to their search for a partner. There are also videos on the ladies' profiles that you can watch.
Mordinson Brides and Steps to Success
Since every Ukrainian lady on the Mordinson cards has personally introduced themselves at the Agency's office in Kharkov, you will know that they are serious about this endeavor. As a result, getting to know them is quite easy:
You write to multiple women.
If the Ukrainian lady has an interest in you, you can get to know her over Skype, the telephone or through similar means eventually meet up.
As soon as you think that you have enough dates with enough ladies, you can travel to Kharkov in order to meet them.
Meetings are usually quite short to start off with, usually only half an hour. Though it may not always be necessary, there is also an interpreter's service offered on the dates.
Mordinson.co.uk - Costs:
The first phase is free for you if you say you come with our recommendation (from "LeadingDatingSites.co.uk").
The trip will cost "all inclusive" close to £2000.