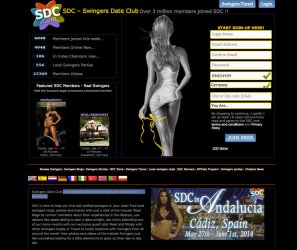 sdc.com
The World's Largest Swingers' Date Club!
Link: www.sdc.com
sdc.com review 2021:
SDC stands for Swingers Date Club. Swinging is a lifestyle choice, although it is also seen as a hobby by some. SDC is therefore primarily used by couples, though it is more than possible to find singles on this site as well. As a result, it is...
...among one of the most well-known and trusted swingers' dating sites on the Internet today.
Having started in 1999, SDC still remains active, updated and modern. At the moment it boasts around 3 million members (and 750,000 members in the UK) and has expanded to a wide number of countries. Just some of these places include the Netherlands, Germany, the UK and the United States. The amount of choice will therefore depend on where you live.
SDC Membership: Login
A great thing about SDC is that you can login as either a single or a couple. Signing up to this dating site is free and affords you a trial period. It means that you can take a look around, browse through the other couples and singles on the site, and generally see if it suits you. Those who take a liking to SDC can then sign up for an upgraded premium account which will allow full access to all the features.
Searching for couples or singles on SDC.com is quite easy. There is a search tool available to help you find exactly who you are looking for. Not only can you search within your own locality, but you can also widen it to include other countries. This gives you a lot of options, especially if you and your partner decide to go on holiday and are interested in hooking up with someone while abroad.
SDC Features and Benefits
SDC.com is more than a dating site. It includes a lot of extra features if you sign up for a full membership. While navigating through the site, couples can find various sections depending on what they want. For example...
There is a travel section that offers travel deals to those who sign up. Often these are events held in exotic locations, and most of the time SDC offers an all-inclusive price.
There is also a travel calendar available which will allow you to see what is coming up in the future. Whether you fancy a beach part or a ski trip, you can find everything in the SDC travel section.
SDC.com Communities
A site like SDC would not be complete without communities. These are groups of people with specific interests and/or sexual preferences who may meet up in order to fulfill these needs, or talk about them. If there is nothing there that fits your taste, you can by all means create your own. There are strict rules and regulations that come with what you may or may not put up, so be sure to read over them before you do anything.
By doing a local search on SDC, you will also be able to have a look at the different swinger clubs that are in your locality. Being able to search by parties and events will also give you a great reason to get out there and start mixing with members. Since SDC offers a blog service for its users, you can also have a look and see what other swingers are doing.
SDC Experience
SDC.com's offer of a trial period is quite good, as it allows you to chat with some of the members on the site. By being able to do this, you can 'try before you buy', so to speak. Another unique aspect of SDC is the suggestion box, which allows you to make a suggestion to the owners regarding anything about the site. Members can also have a look around before they decide to upgrade, so you can get a really good idea of what you are purchasing.
Members can get as little or as much out of this as they want. Countries like the USA in particular will have more members, therefore making it well worth it to join. There is also a high level of regulation and security, so you can enjoy your erotic experiences in a safe setting and on a secure website.
sdc.com - Costs:
You can sign up for free.
SDC.com's prices start at US$8.33/month.