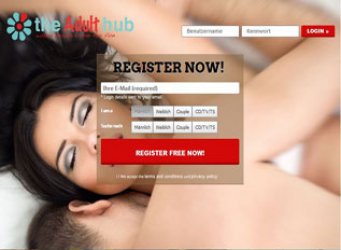 TheAdultHub.com review 2021:
TheAdultHub is a swingers' dating site that also caters to a wide range of other individuals. Since the focus tends to be on couples, TheAdultHub is a place where you can find people with all sorts of preferences. With 1.8 million members, it also tends to be a rather small swingers site.
Most of the members are located in the United Kingdom, though for those who want a much larger selection, SDC.com may have what you are looking for.
TheAdultHub Experience
Although our experience at TheAdultHub made us think the site to be a little cartoonish, do not be fooled. When you sign up you can choose your own username, but you will be presented with a password. You will also need to make your profile as specific as possible, in order to get the most accurate matches. Every time you log in, you will then be presented with a new match. This makes the overall searching experience a lot easier.
As one would expect from a swingers' dating site, there are a lot of couples. This is a good sign, as many of them are often on the lookout for something new and exciting. Either that or they are experienced and willing to help others who may be entirely new to the world of swinging.
Features You Can Find at TheAdultHub.com
There are features available to all members. A general search can be conducted, it is possible to communicate via mail and create a detailed profile. Users can also take a look around for swinger clubs in their area.
There are also chat and webcam features at TheAdultHub for members to use, so you can get a more interactive experience. A lot of couples here like to detail their swinging experiences as well, often in the form of blogs that are provided by the site.
If you wish, you can also go onto the forums and take part in various discussions. Upon upgrading, members will be given a lot more access. This includes access to adult material such as pictures and videos, as well as a lot more.
TheAdultHub.com - Costs:
Creating a profile is free.
Full access from £5.99/month.