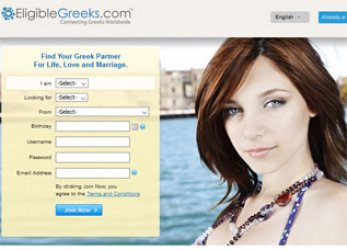 EligibleGreeks.com review 2021:
EligibleGreeks.com claims to be the world's largest Greek dating site. With around 8,000 singles in the UK, they're not far off and are part of the World Singles online dating community. For those living in the UK, you can search for singles in Greece, at home or anywhere abroad. In this sense, it is also an international dating site.
Our Review of EligibleGreeks.com
We took a look at the EligibleGreeks.com platform in our review to see just what it could offer singles in the UK specifically. The site is set up like a lot of other online personals and allows users to express themselves to their hearts' content: so, you can see whether or not a specific single is interested in long-term dating, short-term dating, marriage or more.
We did find that most users were looking for something a little more long-term. So, in that sense, Eligible Greeks is a much more "serious" site. Of course, there were quite a few people also just looking to make international friends.
Eligible Greeks: Is There a Greek Dating App?
With a lot of dating sites nowadays, you'd expect some kind of app. Greek dating site Eligible Greeks however doesn't appear to have a matching one at the moment. This may seem a little inconvenient until you realise that you can use the site regardless of what device you're on. So, messages can still be checked and you can easily chat to other singles on your smartphone, tablet or PC.
Premium Membership at EligibleGreeks
EligibleGreeks generally charges for most of its services. You can write up a profile and check it out: take a look at the different singles, do a basic search and even show interest in someone if you like them. For the full experience, a premium membership is necessary. This means that you'll get more visitors and be able to enjoy unlimited communication, as well as chat to others and get to know them more.
EligibleGreeks.com - Costs:
Set up a profile for free.
EligibleGreeks premium membership, where you can chat and get more visitors, starts from £19.63/month.