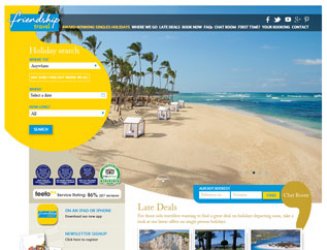 FriendshipTravel.com review 2021:
With FriendshipTravel.com, singles and other customers alike can take some time off to meet new people and go new places. Since 1999 FriendshipTravel has brought people together with a range of different holidays such as cruises, sun holidays and adventures.
FriendshipTravel.com: Useful Features
The FriendshipTravel site itself is a useful resource and also acts as a brochure. Clean and modern, it is laid out with all of the features that you will need. For those who may want the experience of other customers, there is a chat room where you can also ask questions. You can also give FriendshipTravel a call if you wish to speak to someone, or email them.
For further information or if you just want ot keep up to date, don't forget about the Friendship travel blog. You can also get information dleivered straight to you with their newsletter. There is of course a useful holiday search function. All you need to do is type in the details of your next desired trip and away you go!
FriendshipTravel: Types of Holiday
If you're not sure what kind of holiday you're looking for, search FriendshipTravel and see what is available. There is a "First Time Travel" section for those who maybe have never really travelled on their own before. "Last Minute Breaks" are on offer as well for those who may want to wing it and see what turns up.
Singles cruises on FriendshipTravel can be a great way for you to meet other people. These are often great because they will have various events. Singlesi nterested in having a bit more action can of course look at activities holidays.
FriendshipTravel.com - Costs:
There is an administration fee of

£30.00.
A trip on your own doesn't have to be lonely!