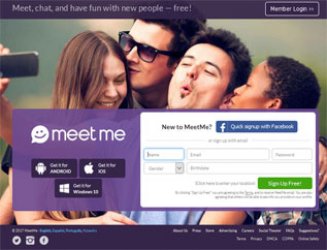 meetme.com
Meet, chat, and have fun with new people — free!
Link: www.meetme.com
meetme.com review 2021:
Meetme.com is another social dating site review that we decided to undertake. Unlike many classic dating sites, MeetMe has an extra edge to it: it is literally about meeting people. Dating is certainly a bit part of MeetMe, but a lot of users and members go here in order to find friends. So if you've just moved to a new town or city, MeetMe is not a bad choice. If you fall in love, well, it's a plus!
Meet was originally founded in 2005 in the form of a site called MyYearBook, but took its current name in 2012. This was due to a broadening range of members. Now headquartered in New Hope, Pennsylvannia, this social dating site can boast around 40 million users.
MeetMe.com: Login
Login to MeetMe is easy, although you do have to provide your phone number in order to verify your account. The site is interesting because it offers a number of games that you can play. By playing these games, you can earn virtual currency called 'Lunch Money' and then use that in order to take advantage of the site's other features.
MeetMe Mobile and App
You will be glad to learn that there is also a mobile version of MeetMe. Their mobile site is fine for a phone or a small device, though we would recommend that you use the desktop version if you're on your computer. It is also possible to get a mobile app version for Android. This is also available for iOS.
Is MeetMe.com UK Worth It?
Since there is no need to pay to communicate on MeetMe.com UK, creating an account and then leaving it idle is a common occurrence. Reviews from other users have also complained about the amount of fake profiles and web bots on the site, so this is definitely something you will need to look out for. This is not MeetMe's fault, of course.
Having 40 million members to choose from is a lot. A lot of singles on the prowl find MeetMe only occasionally useful for getting dates. Often with sites like these, we would recommend something like Zoosk.com. Since MeetMe is free, however, you can keep your account open there at no extra cost and still use other dating sites.
meetme.com - Costs:
You can sign up and search profiles for free.
In order to use many of the site's features, you have to buy credits, which can be bought in amounts starting from US$9.99/package.
---