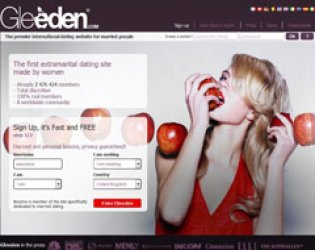 Gleeden.com
The premier international dating website for married people
Link: www.gleeden.com
Gleeden.com review 2021:
Infidelity is in, and you will find a suitable a married dating site with Gleeden.com. This married dating site was created for women by women, and took its first steps into the online world in 2005. Since then, Gleeden has now managed to rack up around 2,500,000 members on a worldwide scale.
Most members here are on the lookout for some side action, much like those who join VictoriaMilan. Whether you are married, attached or single, Gleeden is bound to have something to tickle your fancy. Also...
...another unique selling point about Gleeden is that it claims to have '100% genuine' profiles and accounts.
The site's administrators are dead against fake accounts (so it seems!) and therefore strive to ensure people that everyone who has signed up is real.
Going Deeper… What Gleeden UK is All About
Gleeden UK may have a slightly confusing and seemingly unremarkable name, but the first impression that one gets when stumbling across the front page is that it is geared more towards women. Specifically, women who are looking to cheat. Once you sign in, you will find that there is a significant number of male users available at your disposal. All you need to do is simply start messaging them in order to get the party started!
A good sign is that, upon signing up, you are not inundated with messages from faceless male profiles. A quick search through the profiles seems to indicate that there are a good few, decent men out there. The same can also be said for female members. Naturally, this is going to depend heavily on where you live.
Navigating your way through Gleeden is a little bit tricky. It can be a bit disorienting coming to terms with the general layout of the site, as well as trying to find out what buttons go where. As with all websites, this will take a little bit of time to adjust and get used to. However, this does not bode well for Gleeden's ease of use.
Working the Controls: The Features at Gleeden.com
Features like sending and receiving emails, as well as using an instant messaging chat service, are both possible on Gleeden. It is also possible to change your current online status. Users can choose between 'online', 'away' and 'offline'. There is also a toolbar on the top part of the page which has a number of relevant icons. These icons indicate what messages you have received, who has added you to their favourites list, your private album and virtual gifts received.
The private album will allow you to upload 'private' photographs, even if they are a little bit naughty. It is also possible to stick a few (decent!) photographs into your public album so that everyone can see.  
A 'crush alert' system allows you to digitally flirt with other members.
What Gleeden Costs
Don't forget about the costs! Gleeden is free for women who join, but men have to pay. Payment is usually done on a credit system. Each action that you partake in costs a certain amount of credits. As a result, it is a good idea to keep this in mind when using the site.
Gleeden.com - Costs:
Free for women.
Men have pay for credit packages starting at

€

14.99/credit package.