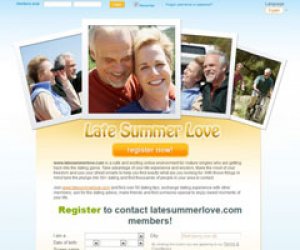 Latesummerlove.com review 2021:
LateSummerLove.com has been offering mature dating to older singles since 2008. It is a niche dating site and is run by the Dating Factory, a network of dating sites which currently can claim 12 million members from all over the world. LateSummerLove is primarily focused on the UK and Europe and aimed at individuals over the age of 50 who are looking for love. It is somewhat similar to Senior FriendFinder.
LateSummerLove.com Navigation and Search
As a dating site, LateSummerLove is quite straightforward and easy to navigate and search. The graphics are quite plain and minimalistic and you will immediately be shown pictures and profiles of other singles who are on the site and be given the opportunity to chat with them. The number of male members on the site does seem to outweigh the number of female members, however.
Using the functions is relatively simple and doesn't take a lot of getting used to. A nice thing about LateSummerLove is that you are not pestered by pop-ups telling you to upgrade all the time. You can easily navigate the site and see what you can find here.
Features on LateSummerLove
Not a bad chat feature.
On LateSummerLove.com you will find a lot of suggestions regarding singles suggested to you, though make sure to keep a close eye on where they live. This is just one of the features LateSummerLove has. While it is certainly possible to find someone close to you if you live in an urban area, you may find that some of the singles are just too far away if you live rurally. Always make sure to keep an eye on distance.
Chat, messaging, search and other functions exist here as well. There is even a video chat available, so you will be able to speak to the person on the other end in real time. This is a great asset to use if you are going to meet up with someone. You can get an impression of what they are really like before you meet up with them. There is also the option to become a VIP member, which is what you get if you pay extra. VIP members receive even more benefits than Gold members.
Latesummerlove.com - Costs:
Create profile and browse profiles for free.
Gold Upgrade in order to communicate: €29.90/month.