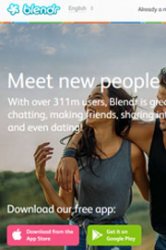 Blendr App review 2021:
**ATTENTION**
Blendr has merged with Badoo. To find out more, check out our Badoo review.
Blendr is an app that is focused on having people meet each other to chat, make new friends and date. It was launched in 2011 and is available on both Android and iOS. Blendr can be used from a desktop computer as well. At the moment there are around 250 million singles on Blendr, so there is a considerable market of people.
Blendr Login
To login to Blendr, we needed to have a mobile phone number. This was used in order to verify our account, as a measure against fake profiles. You can sign in with your email address and a password or, alternatively, a Facebook account can be used. A link to the Blendr app can also be requested via SMS. Filling out the interests section comes next, in order to help you find more accurate matches.
Experience at Blendr
During our test, the Blendr app seemed a little shaky. While there were a lot of profiles to choose from, there was a certain level of superficiality. This is something that probably comes from the overall thinness of the profiles presented. Simply picking out interests from a list is not always the best way to match people.
The ability to find people that you have something in common with (such as hiking or going camping), can come in handy however. In this sense, it may be useful for someone who wants a date who is interested in a variety of other activities as well.
Features on Blendr.com
Photo rating is a common thing on Blendr, requiring you to rate photos in order to have your own profile rated highly. We found this to be somewhat irritating. It is also possible 'Rise Up', hence improving your visibility on the site and getting more contact possibilities. This will require you to buy credits, however, as will playing their Encounters game. This is basically a 'Hot or Not?' game where you choose who you think is attractive, while declining those that don't appeal to you.
Blendr App - Costs:
Blendr application is free to download and use.