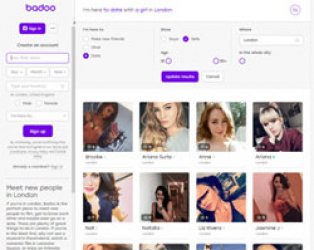 Badoo.com review 2021:
Badoo UK is an online social dating company that was founded in 2006 and currently has its headquarters in Soho, London. Overall, Badoo is active in over 180 countries. Just some of the countries that it is most popular in include France, Italy, Spain and Latin America and primarily aimed towards younger people. Badoo can now proudly boast over 250 million singles and, according to the counter on their website, the number just keeps growing.
Badoo.com Experience
From the beginning, the sign up process at Badoo is rather simple. All you have to do is write your first name and give your email address. The rest is then done for you. Once you have signed in, you are free to start searching members and trying to contact them. There is a bit of security because...
...in order to communicate, you need to have a photograph up.
The website has a nice and simple layout to make the Badoo experience more pleasant, and the start page will show up in the language of the country you are in. If you wish, you can change the language settings so you don't have to stick to using English, if it isn't your native language.
Badoo Mobile
There are a number of apps that come with Badoo, and one of them is Badoo Mobile. For anyone who happens to be on the go, Badoo mobile can provide you with a quick and easy way of accessing your account. With it, you will be able to search for other users no matter where you are. On top of this, you can also use the Badoo Desktop app to see how far away someone is from you.
Badoo Premium
Although Badoo.com is a free site to join, there are many beneficial bonus and premium features that you can get which have to be paid for. There is no doubt that signing up with Badoo can allow you access to a number of profiles. However, if you are interested in increasing your visibility on the website then it may be a good idea to consider premium status. These Badoo 'super powers', as they are also called, will give you an edge over other users and may make it easier for you to meet people and find dates.
There is also the 'Encounters' game which everyone can play, whereby you view the profiles of members and choose 'Yes', 'No' or 'Maybe'. By signing up to premium, you will be able to view what others have said about you whilst playing this game. Other features that Badoo's premium choice bestows are a form of advanced search, the ability to secretly view a profile and see whether or not someone has received a message you sent.
Badoo.com - Costs:
Signing up to Badoo and using the basic service is free.
You can sign up for a subscription to use the full service from US$2.99/month.
A further Badoo explanation...