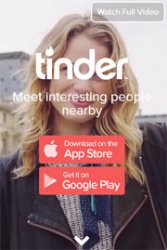 Tinder review 2021:
"Relaxed and funny, but also a bit superficial - Well suited for testing your market value, but not so much for falling in love. Used by men for a fast f... flirt, and of course sometimes also by women...."
Tinder fever rules in the UK – like a comet, this dating app has struck both the media and singles alike…
Tinder - Swiping in the name of love.
At the start of 2014 Tinder was heavily pushed in the UK media and, since then, this dating app (launched in the USA in September 2012) now enjoys a lot of popularity on this side of the pond. The app is seen almost daily in the media under a new headline.
How Many Users Does Tinder Have in the UK?
At the beginning the number of monthly, active users in the UK was around 2,000,000 and after the media hype during the last year there are now already 3,400,000 members. 2015 ought to be remembered as a year of mega-growth in the annals of this small company. Worldwide, an estimated 1.5 billion profiles swiped left and right and this lead to a total of 21 million matches.
What is the Tinder App? – Our Guide
Hyped up as the new type of dating in the media (though in our opinion a bit overhyped) the app is, basically, a flirt app that is not so much a revolutionary form of dating as a simple way of getting to know new people. This of course has its advantages: Tinder is playful, fast, easy and a lot of fun. Just don't put too much hope in finding your dream partner here!
Swiping with the Tinder App
On Tinder, user profiles are 'swiped' as they come up on your phone and with that you sort out which ones you like and which ones you don't: swiping left is simply, "No," and swiping right signifies, "Approved!" A match occurs when two members swipe right on one another. The target group of these Tinder users normally lies between the ages of 28 and 35 years.
Technical Requirements of the Tinder App
Tinder's fast and easy to use. Available both on Android and iPhone systems, you can only use Tinder if you have a Facebook account.
And of course, other information you should probably be aware of…
Profile information is automatically generated from the first name and age of the user.
Five photos will be taken from your Facebook profile.

IMPORTANT:

The app automatically displays information about your employer, job and education (if you've given such information to Facebook).
Additionally, users can add their Instagram account, so as to provide more insight into their lives.
Tinder Dating in Reality
So You Can Only Login with Facebook? That's Stupid.
Let's talk briefly about login: we're not just getting into Tinder's particularities, but also providing a bit of criticism regarding this dating app as a whole. To use the Tinder app, you must have a Facebook account. Not great for those who, for one reason or another, don't have a Facebook account or just don't want one. That's certainly a big, fat black mark against Tinder!
Another point to remember: some users have commented that Facebook happily gives up a couple of hard facts about members (such as friends, interests, age and where you live). Not all of this information users may necessarily want to give out straight away, especially if they haven't met your Tinder date yet!
Tinder Plus: Costs and Free Features...
It's been a good year since Tinder struck. The app's developers are now in the headspace to earn a bit of money: they now have a lovely, chargeable version known as Tinder Plus. Advantage: Use of the app and all of its basic functions and features is still 100% free. However, for absolute Tinder junkies, there is now the option of two expanded functions: Undo and Passport. Definitely nice to have but, in our humble opinion, not necessary…
The "Undo" and "Passport" Features
If your passion for Tinder is already quite strong then you may be willing to shell out nearly £14.99 a month or more for two extra features. But who knows, perhaps they are the ultimate functions that will open up the whole world. With the Undo feature you can backtrack the last Swipe you made, i.e.: if you swiped left too quickly and thought: "Shit, s/he was actually kind of hot", then you can literally undo the "no" option and get that match back.
Now there is also a Super Like function on Tinder. Which involves swiping up! This goes beyond a regular Like: it means that you're really into your potential match. We think that it could end up being a useful tool for going beyond the mindless swiping that occurs. Remember: You can only do one Super Like per day!
How to Save Money on Tinder Plus
30 years – that is the magic discrimination limit imposed by this dating app because those on the other side of the age limited, the "older" Tinder users, will be charged four time as much. One cannot help but think that the app developers consider over-30s to be past their sell-by date, but it's probably because over-30s have greater spending power – and are therefore more willing. So, since March 1, 2015 Tinder costs have gone up considerably for older singles… In our opinion, that takes the biscuit!
Dating App with a Passport: Does It Make Sense? No!
Singles using Tinder can also avail of the dating app's Passport function. You can use it to change your location and, for example, look for people in Sydney and then switch to searching for people in Perth. Also good to know: the maximum range for match suggestions is about 160 kilometres from your location. But honestly: if you're not one of those Tinder users who belongs to the jet set crowd, you can just forgo the Tinder Plus option…
Following the introduction of Tinder Plus, the company is now trying to finance itself through advertising in order to get more users and has therefore look for prominent partners such as Facebook and Twitter.
---
What users want to know:
Better alternatives to Tinder …
---
Tinder App for Women vs. Tinder for Men
There is definitely a difference between women and men when it comes to using Tinder! Men, often the pursuers, swipe right the most (46 "Yes" for every 100 swipes) generally just depend on the law of averages when it comes to landing a date. Women, on the other hand, are a bit more selective on Tinder: out of 100 swipes only 14 go right.
Put simply: men don't need an Undo button because they almost always swipe right. For women, however the "Undo" function has proven to be very useful.
The Like Limit: Limitation of Swipes
Those notorious for compulsively swiping will now have a Like Limit imposed by Tinder: within a 12 hour period, users are only allowed to right-swipe a certain number of profiles and therefore signalize "Yep!". The developers want put a stop to the boundless right-swiping that occurs.
Initial success in this endeavour has been made already. Since the right-swipers now encounter a Like Limit, the selection of potential partners has risen: there are 25% more matches and 25% more private messages between these matches as before the introduction of daily swipe quotas and contact from spambots has gone down by 52%.
We've tried it out: Our female tester swiped madly for 5 minutes, which made up to 40 matches before it said that the daily limit had been reached.
So then why does the Tinder dating app get comparatively few stars? It's quite simple: in terms sustainability Tinder shows its greatest weakness with the majority of users just mindlessly swiping and not actually bothering to meet up with anyone in real life.
Tinder Review: At a Glance
Members:
UK: More than 2,000,000 Active Users
Average Age: 18 - 35 Years
Gender Ratio: 55 % Male to 45 % Female
Main Activity: Evenings and Weekends
What is Tinder Used For?:
Moderate to good for casual flirting, affairs, one-night stands
Less suitable for finding a serious partner
Service:
The advanced features "Undo" (undo your last left-swipe) and "Passport" (change your location on the go).
User-friendly - fast application, easy to use, uncluttered design
Presentation - fancy, no frills, clean
Registration: simple, but only Facebook account possible
Flirt partner: based on contact proposals, no independent search possible
Search: By gender and radius
Simple design: more or less only photos available

Communication
Wipe Right (Yep!) Or left (No!)
Super Like: Swipe 'Up' when a match really catches your eye!
Tap on heart or cross, or swipe up!
Profiles
Loading Time
Service/Support
Security
Few fakes by logging in with Facebook account
Members - check: no obvious controls
No entry requirements
No images Protection

Free Tinder Options
Create profile
Upload pictures
Contact suggestions in a radius of up to 160 km
News and Chat
Hot or not function
Search parameters: women and/or men, radius
Tinder Plus Costs
Undo function (updated links wiping is withdrawn)
Passport function
Delete Profile
Rapidly and without problems via App Settings > Delete account
Tinder App Free
The Tinder App is basically completely free.
Tinder Costs and Prices
The advanced features "Undo" (last swipe gesture to undo) and "Passport" (location change on the go) cost depending on the age of the user.
Tinder - Costs:
Tinder is free, although you are limited to about 100 swipes every 12 hours. If you wish to take advantage of unlimited swipes, you will have to pay:
Users under 28: £3.99/month.
Users over 29: £14.99/month.