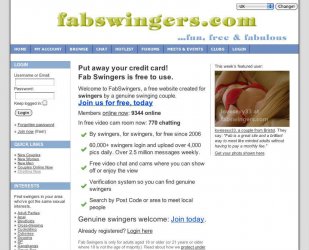 Fabswingers.com review 2021:
FabSwingers was created in order to help swingers find one another. The website was launched in 2006 and is only available to those who live in English-speaking countries. The number of members on FabSwingers, however, is somewhat low. On average, there are about 17,000 swingers online at the same time.
Fabswingers is an incredibly ugly-looking site, clearly with a very old-fashioned "design". There are so many better sites than Fabswingers to accomodate your swinging needs, just have a look at other sexdating sites (like C-Date) that we have!
FabSwingers Warning
During our review, it became apparent that there is a high number of explicit images on the Fabswingers site. For most part, many of these included pornographic images, many of which will undoubtedly scare off any female presence on the site. In contrast to the rather sordid pictures, members were quite hesitant to reveal too much information about themselves. As a result, there is no real openness, like there are on sites like SDC.com. The security measures on this site are somewhat outdated, and we therefore do not consider any data uploaded onto Fabswingers to be 100% secure.
FabSwingers Features
Couples and singles looking to use FabSwingers features will find that there are clubs available depending on where they live. If you live in a highly populated area, your chances of finding a decent one will be greater. If you're not near any of the big UK cities, you're a bit stuck.

If you want to speak with other users, there is a chat room function available. This is also a mobile version available for your iPhone, iPad, tablet or smartphone, which is just as ugly as the desktop version. Another section will tell you what is going on when it comes to events and meet ups with other members, so make sure to keep an eye out here as well.

There is of course a messaging facility available on FabSwingers. There is also the option for users to change which country they are currently in, so you can also go travelling with the site.
FabSwingers Experience
As a dating site, FabSwingers is somewhat small and therefore it can be hit-and-miss depending on where you live. Although the site itself is a little bit difficult to navigate (it has something of an old-fashioned layout) and there are a few advertisements unless you opt to pay. Our favorite among the dating sites for swingers is SDC.com.
FabSwingers Payment
Although FabSwingers is free, and indeed does offer a lot of free features, there is the possibility of an upgrade to either gold or silver. Some of the paid features allow you to save messages to an archive folder, the ability to block out advertisements and view multiple webcams.
Fabswingers.com - Costs:
Free sign up.
Extra features such as text message, phone calls, eliminating advertisement,... from £5.