« Back to: Sex contact sites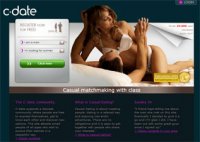 Link:
www.c-date.co.uk
C-Date.co.uk
My No.1 for Casual Dating
Launched: 2008
Pros and Cons
C-Date is the fastest growing dating site for people seeking casual sex and dating without obligation.
C-Date scores with a high percentage of women due to a strong presence in the media.
A higher calibre of member (less sleaziness).
68% of the registered members are in a relationship and seek diversion.
You cannot see profile pictures (they are "faded") unless the other party allows you to.
Free for men up until the point of contact, then they must pay. Completely free for women.
3,200,000
UK members
59 : 41
This is C-Date.co.uk:
Our experiences with C-Date
C-Date has done a lot of advertising not only in the media, but also online and therefore has gathered a rather large number of singles (around 3,200,000 in the UK) who are looking for casual sex and erotic adventures. This is dating site filled with people looking for new experiences, everything from fetishes to one nights. One of the best aspects of this sex platform is the "sexual matching" option where, based on a questionnaire, you are matched up with users who are sexually compatible with you.
Our experience also showed that there is a high level of identity protection on C-Date. Users' names are not shown and it is up to the user as to whether or not they would like to show a stranger their photos. For someone who is looking for discreet casual sex, this sex dating site is perfect.
Who can I find on C-Date.co.uk?
This is also where C-Date.com is rather unusual… The male/female ratio is almost identical. In our review, we found that the average age is 33 years for women and 34 years for men. There were admittedly too many older and younger users. Some of the members were also married and looking for affairs, but many were single on the lookout for casual sex. Something for everyone, in other words.
Prices at C-Date
One of the reasons that the gender ratio on C-Date is well-balance is because membership is free for women. Another reason is that there is also a lot more security for women, so there is little need to feel intimidated. In order to contact female members, men have to pay.
Interested?
C-Date.co.uk has one of the best men/women ratios among the casual dating and adult dating sites.
C-Date.co.uk: composition of members
Number of registered members at C-Date.co.uk:

Currently around 3,200,000 UK members

39 million registrations worldwide
25,000 new members worldwide  every day

275,000 male C-Date.co.uk Premium Members
450,000 login weekly
3,500 new members every day in the UK, 20,000 worldwide
(According to the last 6 months)

Gender ratio (m/f):

59 : 41

Of course, more men sing in to C-Date than women.
Women are allowed to communicate for free, but men have to pay.
The reason for this is that women generally receive more messages, so those who pay will be serious rather than messing around.

Age distribution:

Average age of users:

Women: 34.0 years old
Men: 33.7 years old
Matching procedure of C-Date.co.uk:
Steps to success:

You register anonymously as female, male or as a couple and specify your ideas of an erotic adventure.
You will receive appropriate contact suggestions daily (as long as your settings are not too edgy ...)
The initial registration is kept nice and short, so you get a first impression with a few clicks.
During your next login C-Date will ask you, step by step, a few questions here and there to ensure that they enough information for their matching algorithm.
In total, there are 25 questions.
You receive your matches.
You get then in touch anonymously...

Given contact guarantee:

You are guaranteed at least 5 contacts.
Should you not receive these, you can geta free extension on your membership.

Quality of user profiles:

Anonynymity Protection

You can choose whether other members see your photos as clear or "cloudy" (hence giving you an air of mystery!).
What is cool is that you can choose what members see your photos clearly and be selective about it.

 

How Can I Portray Myself?

There's a multiple choice list that you tick in order to indicate your personality traits, festishes and more.
You have to fill out basics like age, what you're looking for etc.
The multiple choice section is quite varied.
There is no opportunity for free text, however.

The matching system at C-Date takes all information into account in order to set people up, so to speak.
So if you change preferences around, the computer will match you up with current suitable partners, and vice versa.
So you will be able to see all of your matches in the members' areaa and what they are into.
If you keep on top of it, you'll likely get between 5-20 contact proposals per week.
Technical aspects of C-Date.co.uk
Special features:

High willingness of members to fast meeting.

"Casual dating" (quick uncomplicated sex) is the goal of C-Date users

Safest Casual dating environment for women.

Our testers felt very safe at C-Date.

For example, it was reported that 'annoying admirers' were banned quite quickly.

Access to international casual dating.

C-Date is now available in 35 countries.

Handling and design:

The user is not really free to insert individual texts.
Only predefined answers can be selected.

 

For PC and Notebook...

C-Date is easy and intuitive to use.
Very women-friendly and with a sophisticated design.
Safety aspects are satisfied.

 

For Smartphone and Tablet:

Works on all smartphones and mobile devices.

Interactivity:

C-date is based on a matchmaking system and users can arrange casual dates, simply by sending regular messages to new contacts suggested by the casual dating matchmaking site.
You will be notified of new flirt mails by email.
This function can be switched off.
C-Date.co.uk cost and fees
Free services:

Free of charge for females!
Males can create a profile and receive anonymous contact requests.

Define your erotic type
Upload your photo
Receive email notifications
See who has visited your profile

Premium services
(fee required):

For males, unlimited communication, date requests and being able to fully see profiles costs:

12 months = £19.90/month
6 months = £29.90/month
3 months = £39.90/month

 

You can also look at members' erotic galleries, save your contacts and messages and enjoy 24/hour access.

 

For all men, women and couples who want to meet should follow these points:

A full profile with photos.
Answered questions.
Pose your own questions.
Simply start talking to other members!

Payment options:

Credit cards (Visa & Mastercard)
Click&Buy
Bank transfer

Particularities:

Take Note:
The contract is automatically extended until you cancel!

How can I cancel?

Go to the top of the page to "My Profile / Settings / My membership / change".

We remind all members that have paid their premium subscription with Click&Buy, terminate their subscription also with Click&Buy (if you want to cancel).
C-Date.co.uk - about the company
Address:

Interdate
291, Route d'Arlon
L-1150 Luxembourg

Contact:

Cool TV commercials of C-Date.co.uk: