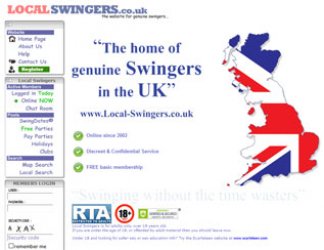 Local-swingers.co.uk review 2021:
Since 2002, Local-Swingers.co.uk has been serving the UK swinging community. While not as large as other swinging sites such as SDC.com, there do happen to be around 200,000 members have signed up to Local-Swingers. The primary target here, of course, is couples and those interested in swinging. Single males and single females are also welcome.
Sign Up to Local-Swingers
Before you even sign up to Local-Swingers, you will see that privacy and safety take top priority. Users who sign up (you can choose between signing in as a male, female or couple) can get their profiles verified to ensure others that they are genuine. It should also be noted that...
...single females and couples need to phone Local-Swingers Support in order to verify their profiles, or else the profile will be deleted within three days. Only a female voice can verify a profile.
With Local-Swingers, there is a feedback system available as well. This means that others can rate your profile and you can rate theirs, ensuring that everyone plays along nicely. In order to get the best matches, make sure to fill out your profile as accurately as possible. State exactly what you are looking for, whether it is a one night stand, something short term, long term or simply spontaneous and unplanned meetings.
Experience at Local-Swingers
One thing that will improve other swingers' interest in your profile, and your own experience, is the pictures you upload. You can of course upload explicit images, but these can be protected with a virtual 'key'. This key can be sent to people of your own choosing, so that they can have a look at your pictures. If you're looking for a spontaneous meetup, the SwingDate options allows you to advertise it.
Features at Local-Swingers.co.uk
At Local-Swingers, there are features that show how many people are online at any one time. Not only that you can choose from...
An advertisement board which advertises meet ups, holiday suggestions and swinger parties (both paid and free).

Various special-interest club

s to join and the ability to list your favourite members.

Local-Swingers also allows users to connect as Friends.

You can use 'winks' to show your interest in another, and use it as an icebreaker.
When it comes to online interactivity and further contact, there are chat rooms and webcam functions also available. This means that you can speak to someone before you meet with them. In order send messages, see who favourited you, post a swinger party, view photos and be alerted when someone reads your message, you'll have to upgrade.
Local-swingers.co.uk - Costs:
Profile posting is free
To fully enjoy the site, prices start from £19.98/month.