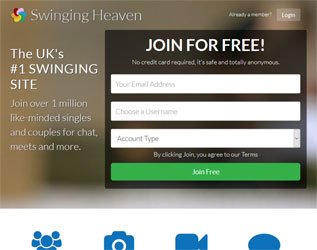 Swingingheaven.co.uk review 2021:
SwingingHeaven.co.uk is more than just a swinging and swinger dating site, it also functions as a social network for swingers, with over 1 million members in the UK. It is there for similar in its function SDC.com (though SDC has triple the number of membrs according to our latest test). Having achieved considerable success since its founding in 2002, SwingingHeaven still enjoys a functioning and diverse community of swingers who regularly enjoy getting together and meeting new people.
SwingingHeaven Sign Up
After you sign up, there is no messing around here. Filling out a profile will involve spilling some of your deepest intimate desires, so be aware of that. You can choose to sign in as either male, female, a single person, a straight couple or a gay couple. During the process, make sure to highlight what you are into. This will help others to know what you are looking for. 
SwingingHeaven for Mobile Devices
There are no mobile apps for SwingingHeaven. However, it is possible to use this swinging site while on the go. There is a mobile version of their site which you can of course use on your iOS or Android mobile devices. This sleek, quick version is very user-friendly and is perfect if you are on the go. It can definitely help you when travelling to swinging events around the country!
Features on SwingingHeaven
You will have a general overview of SwingingHeaven's features, including the discussion forums, the 'write an ad' feature, stats to show you how many people are online and a Latest Members section. Members at SwingingHeaven can also enjoy an Entertainment section which will list various Clubs, what sort of Events are going on around the country, different types of groups and even a calendar to mark specific dates.
There is also a useful advice corner which can give information about the swinging scene, as well as tips (don't forget to use the forum for this as well!). You can add friends, receive comments on your page and read useful articles on swinging information. There is also a link to an online shop for sex toys and lingerie. Should you have further questions regarding your account or technical issues, don't forget to raise a ticket at the support center.
In order to use features like live chat, enjoy webcams and see adult photos and videos, you'll need to sign up for Premium membership. Premium Extras are available as well, which allow you to choose extra profile themes, grant access to video editing tools, allow joint couple chat, allow you to watch up to 5 cams and will even highlight your profile in the search rankings. With Premium Extras, you can see who has viewed your page.
Swingingheaven.co.uk - Costs:
Set yourself up with a profile for free
If you wish to go Premium, it starts from £16.95/month