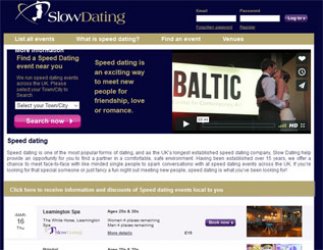 Slowdating.com review 2021:
SlowDating.com, a UK site, is unusual in that organises speed dating events rather than focusing on online speed dating. Since 2004, SlowDating has been organising events across 26 cities in the United Kingdom, with 24-30 people at each event. Those who are interested in meeting new a new partner can simply sign up, go to the events and experience what they have to offer.
SlowDating Online Login
Although, as stated before, SlowDating.com is an organiser of speed dating events, an online login to SlowDating is also possible. You can sign up to their site with your email address and a password. This is simply a subscription service, as you will receive information on their latest events and possibly even discounts from time to time. Keep this in mind if you do not want to constantly have emails flooding your inbox.
SlowDating Online provides you with what can be described as a bog standard dating site. When you login to SlowDating Online, you have to sign up again (it is, in essence, a different website), and actually create an account with a profile and all your information. Include your name, likes, dislikes, interests and a description of yourself. Of course, if you wish to stick with online dating we have many more in our speed dating category to choose from.
So, What Are SlowDating Events Like?
For those who are interested in getting out there and meeting people, SlowDating events happen in a number of cities across the country. SlowDating events in Exeter, Oxford and many other cities are all organised in the same manner. Usually, they are held in a top-class restaurant or bar, usually a venue where people will feel comfortable. Use of the venue is exclusive for SlowDating events, so you don't have to worry about other people gawking at you. That usually the last thing anyone wants, especially when you're already nervous as it is!
When the bell tolls, you will have a total of 4 minutes to speak to the other person. At most speed dating events, people have 5 minutes. The shorter time here lets you cut to the chase and take notes, giving you 3 minutes of talking time in total. Usually, participants will meet up to 15 singles during SlowDating events. That can be a lot of people in one evening, but it will expose you to a lot of individuals – one of whom may be your match.
Slowdating.com - Costs:
Between £15-24 per event.