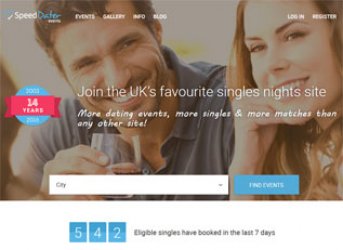 SpeedDaterOnline.co.uk
More dating events, more singles & more matches than any other site!
SpeedDaterOnline.co.uk review 2021:
SpeedDaterOnline.co.uk is another speed dating service site for singles all over the UK. SpeedDaterOnline is integrated with SpeedDater, the speed dating events organiser, which allows online members to attend their events as well. If you have an account, you've got the best of both worlds! This simply means that you only need to create one profile. Overall there appear to be around 200 people on average who login daily.
SpeedDaterOnline.co.uk Features
As well as having access to the events section, the features on SpeedDaterOnline offer users traditinonal dating site options. These include the ability to search for other members, instant messaging and send and receive messages via email. For those who want to try it out on the go, there is also an SMS chat feature for mobiles.
A pretty unique feature of SpeedDater Online is their "SpeedBreak" which specialise in short breaks such as ski weekends, tennis weekends and city breaks for single people. This is quite good for singles who are impatient to meet people and don't want to spend all evening chatting!
SpeedDaterOnline Events
If you wish to attend any of the SpeedDater online events then all you need to do is sign up with your account. You will see advertisements and alerts for them on the website quite regularly, so if you are an active member then there is no way you'll miss them.
SpeedDaterOnline.co.uk - Costs:
It's free to create a profile and browse around.
Full access premium membership from £7.99/month.