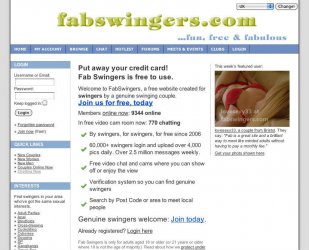 Fabswingers.com review 2015:
Fabswingers.com came out a couple of years later (2006) than the winners on our swingers category and established itself as the free swingers site. Fab Swingers is a community space for swingers in the UK, USA and other English-speaking countries (so you can expect many more members, but not all from your country). It offers profiles, blogs, groups and the features you would expect from a swinger networking site.
You can browse and search meets listings, browse organised events, add a new fabswinger meet, check the swingers club directory, participate in forums, chat via webcam...
Expect sexually explicit photos in profiles (penis instead of faces) erotic toys advertisements, so don't visit this site at work or in front of kids ;-)
The main issue we have with this site is that it proclaims itself as THE free swingers dating site, while in reality you still have to pay to use all features, as with other dating sites.
Fabswingers.com - Costs:
Free sign up.
Extra features such as text message, phone calls, eliminating advertisement,... from £5.
---
Typical "typos" of Fabswingers.com:
www.Fabswingers, wwwFabswingers.com, www.Fabswingers.co.uk, ww.Fab-swingers.com, Fabswingers, wwwFabswingerscom
Similar dating sites:

sdc.com
2,5