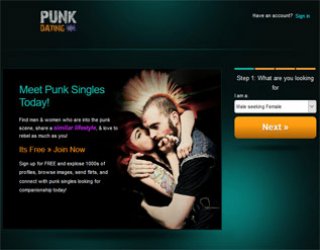 Punkdating.com review 2021:
Punk isn't dead! PunkDating.co.uk is a platform that focuses on punks who're looking for others who accept them just as they are… And for UK singles who maybe even want to meet someone a little different, it may not be a bad choice. So far, many singles here come from a database of over 10,000 members.
PunkDating.co.uk Login: How does it work?
The members' area on PunkDating becomes visible after login and you can see members depending on what your search settings are. If you've chosen male seeking female, for example, you'll immediately be presented with female members. You can change your search settings though with either Basic Search or Advanced Search after login at PunkDating.co.uk.
Our Review: Punk Dating Site for the UK
In our review of Punk Dating we dug a little deeper into the UK pool of members to see just what it was they were looking for. For the most part, there were multiple different reasons why singles had signed up here. Overall, the look of people is very much "alternative" and although the word "punk" stands in the name, you'll also find metal heads, hippies and other people who may not be considered "mainstream".
Is there a PunkDating App?
As far as we could see, PunkDating has no functioning app which is a pity. Fortunately though, the site is designed so that you can easily use it on the go. All you need to do is sign in via your tablet or mobile device and you'll be able to use a mobile version of the platform.
Is Punk Dating Free?
A number of features on Punk Dating are free: you can use the chat room and even set up a video profile which is a good way of portraying yourself more accurately to others. However, if you want to enjoy an extended period of conversation with someone via private messaging then you'll have to pay a premium subscription.
Punkdating.com - Costs:
When you sign up to PunkDating you can set up a video profile, speak in the chat room and search for other singles.
For long term chat and unlimited communication, you'll have to pay a subscription starting at £6.99/month.